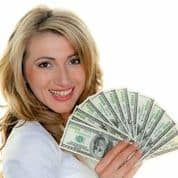 Auto equity pawns, also known as auto equity loans outside of the state of Georgia,  allow you to cover financial emergencies fast. The next time you run into a dental or health problem, or a fine or last minute repair, you can rest assured you'll get the cash you need to stay secure. With a little preparation, this process is fast and simple to complete.
Auto equity pawns have three important benefits:
They tend to generate more money than a typical pawn transaction. Your borrowing limits are based on your car's worth, which can be thousands higher than your other property. Just don't get carried away. Make sure you only borrow the amount you need to avoid overspending.
You can continue using your car while you repay the funds. Many people who're facing immediate financial worries can't consider selling their cars. They need them to get back and forth to work. An equity pawn is almost always a better option than selling your auto outright.
Most pawn shops don't require a credit check before approving your application. Not only does this allow more people to get financing, but your credit score won't be affected by an inquiry.
If you have good credit and a week or more to wait for your funds, a traditional loan can be a good plan. The fees and interest rates may be smaller, and once paid back in full and on time, you'll have an improved credit rating. However, many people without the extra funds for savings have run into emergencies before. These may have made it difficult for you to borrow through traditional lenders.
Even if you have stellar credit, you may not have the time to wait on a traditional loan. Whether you have a friend or family member who needs help right away or there's a pressing emergency in your own life, the convenience of early access to funds can more than make up for the higher interest you'll pay back. With this service, you can have the money you need in as little as 15 minutes.Visit your Norcross, GA Title Tree location for the information you need to get an auto equity pawn started today.