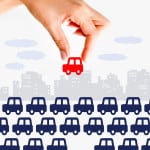 If you need money now, an auto pawn shop is your best bet at convenient, customizable short-term financing. It's a relatively new financial product people are clamoring to take advantage of. Just look at a few of the potential benefits.
1     Auto pawn shops keep you driving while paying your bills. There's a misconception that an auto pawn is like a pawn shop transaction, where you trade your property for cash. With a title pawn – often called a title loan outside of Georgia – you get cash and keep your car.
2     The money is delivered fast enough to help you avoid eviction. If you've received a 3-day notice to quit, don't fear. Take your car's title, and go take care of your bills. You won't spend days waiting for approval while missing financial significant deadlines. Get your money now when it's needed. You can create a suitable repayment plan without turning over your car.
3     Use auto pawn shops for financing for whatever you like. In contrast to a traditional bank loan, your source for auto pawns doesn't try to police your time and resources. Your application will consist solely of how valuable your car is, your proof of ownership and your ability to repay the funds.
Stop sweating those surprise bills, and take control of your finances in a flash. Apply for an auto pawn in Loganville and you'll have your decision in minutes flat.
Ask Title Tree whether you qualify for GA auto pawn today.