Learn how to make a budget for holiday giving that won't bury you in debt.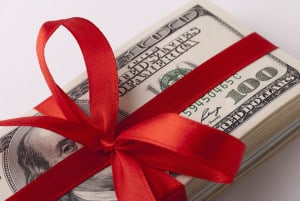 The holidays are upon us, and for many people that means learning how to make a budget for gift giving that won't break the bank. We all love being generous during times of celebration, but overdoing it at the holidays could cripple your finances for the rest of the year. Figure out the best way to prevent over-gifting, as well as easy ways to keep yourself on track.
Follow these four steps to create a stress-free holiday gift giving budget:
1. Be honest about your holiday gift giving priorities.
How important are the holidays to you? While most people take great pride from giving presents to people, the holidays aren't the only time of year when that happens. If birthdays, for instance, are more important to you, keep that in mind while creating your budget.
2. Decide how much you will spend on holiday gifts.
If you're a guestimator when it comes to your gift budget, you'll be an overspender too. People are just too optimistic with how they plan to spend their money. Accuracy is the essential step in creating a budget that works. Financial experts often suggest limiting gift-giving expenses to 20 percent of your monthly budget, roughly 1 ½ percent of your yearly take-home salary. Unfortunately, that can leave your resources pinched.
In order to help you feel satisfied after the holidays are all said and done, create a list of recipients in order of importance. Assign each of those recipients an estimated dollar amount. At this point, your budget is still fluid and open to changes, but this helps provide you with a realistic framework for how much money you have to spend and how it will be distributed. It also helps prevent those spontaneous, often insignificant purchases capable of quickly draining your budget.
3. Get some sort of holiday gift wish list before you shop.
Nothing hurts quite so much as buying a big gift only to have it go unappreciated. It delivers a sting of rejection, but ultimately, this is something you can avoid with some investigative work. If you think asking someone what they want directly takes the fun out of things, ask them instead for a list of three or four possibilities, in order of importance. This is the perfect time to mention you're on a budget, but will try to get something they'll like. Someone on your list being difficult? Ask them what they've been excited about lately? Gift ideas will come to light.
Also, don't forget that certain gifts will require accessories to put to best use. Digital cameras will need memory cards. Video game systems may need extra controllers, headsets or games. When creating your detailed budget, make sure to include these items. If ignored, they could add up quickly enough to cause problems.
4. Set a holiday budget for each person on your list.
This is where plans really start to take shape. Starting with the most important person on your list, begin to price what they'd like for the holidays. According to PC Magazine, we have the tech resources now to make this incredibly easy. Head to online sites like PriceGrabber.com to find where an item is being sold – on and offline – at the lowest price. Apps like RedLaser and ShopSavvy allow you to input or scan the barcode of an item to receive information on where it's priced lowest for sale. You can also set up alerts when items reach a target low.
This isn't the time to try to find an item at the absolute best price to make an immediate purchase. Rather, you want to establish a baseline for your budget. Allocate a maximum purchase amount to each recipient based on items of interest.
You may face some hard decisions. For instance, you may discover you don't have enough money to buy a gift for everyone on your list. Discovering these things before you go to the store helps you make alternative plans, and save your money for where it's really needed.
It can take time and practice to learn how to make a budget for gift giving. If you need a bit of wiggle room, a title pawn can help. Call or visit your nearest Title Tree store to find out whether you qualify.
Customer Referral Program
How would you like an extra $100? With Title Tree's Customer Referral Program, you will be helping your friends to get connected with a title pawn company they can trust and potentially lining your own pocket with some extra cash! Call one of our four convenient branch location to refer a friend today.