How could winning a pile of holiday cash change your life?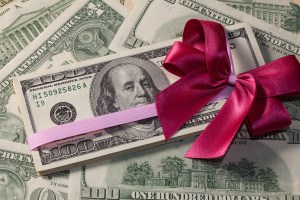 Just imagine what it would be like to win up to $3,000 in holiday cash from Title Tree! What would you do with it?
Get Merry!
Just imagine that smile. You know the one, that ear-to-ear grin that says you've just made someone very, very happy. Winning up to $3,000 would sure go a long way toward helping you give some amazing gifts this holiday season. Your heart's always been bigger than your wallet, and this year, winning this pile of cash will let you shower your loved ones in gifts.
Get Started!
Have you wanted to move but couldn't afford it? You can use your winnings for a down payment on a new home. There are special borrowing programs available allowing for little money down, as well as rent-to-own financing. Use your new chunk of change to become a homeowner.
Need better appliances? Maybe you'd like to use your money for better features or furnishings. Post-holiday sales offer the lowest bargains on every type of item. Take the chance to upgrade your lifestyle with your surprise cash.
Go on Vacation!
How long have you been dreaming of going there? You know – that sunny, beach vacation, or maybe a trip back home, or maybe even somewhere else you've always wanted to go. Win the cash giveaway, and you can start packing your bags.
Get a Winning Smile!
Dental work is one of the most ignored types of medical help. Why? Fillings, braces, caps and the like are expensive. Most insurance companies demand big copays for the work or they consider it elective, but having a nice smile can impact your life in significant ways, all the way from the boardroom to a dinner date. Winning up to $3,000 would go a long way toward a beautiful smile.
Get Your Education Started!
An infusion of cash can also be made to last by making investments in yourself. Fund your education and you'll invest in your life in a way that last for a lifetime. Spending your winnings on education can make good financial sense. If you're afraid of racking up big student loans, invest in a few credits instead. Once you've done well in beginning classes, you'll be eligible for scholarships and grants you can use to pay expenses. You can also use the money to help pay for your living expenses while you're in school.
Get a Business Going!
What if you used your winnings to start your own business? You could turn that $3,000 into a whole lot more! Say goodbye to having a boss, because as a business owner, you'll set your own schedule, choose your clients, and chart your own course. You have the freedom to make changes right as they're needed. Turn your winnings into a career by using them for a startup.
Enter the Title Tree Holiday Cash Giveaway Now
You can't win without entering, so get on the move today and enter before Monday, December 22, 2014. You can enter for the Title Tree Giveaway in two ways:
Get a title pawn. Whether you're already a customer or this is your first title pawn, you'll be entered as soon as you are approved. The process is simple and takes just a few minutes. All you need is and ID and paperwork proving residency, income, and ownership of your car.
Make a timely payment. Do you already have a title pawn with Title Tree? Make your next payment on-time, and you'll qualify for the holiday cash drawing. Not only will you secure your standing as a trusted customer, you'll be in the running to win big money.
Call the nearest Title Tree Branch for more details now, and enter to win up to $3,000 in holiday cash!