There are many opportunities to save money when doing your holiday shopping.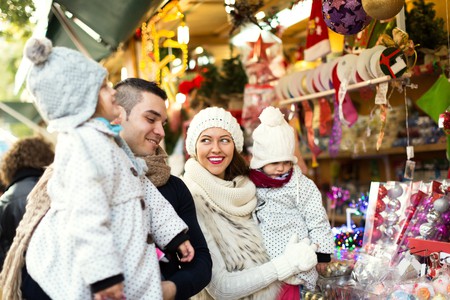 Holiday shopping will take up a significant amount of a household's budget. But luckily, there are a variety of tricks and tips to help save money, but still allow you to buy the gifts you need to please everyone on your shopping list.
Do Your Research
To find the best deal, you'll need first to get an idea of what the price is for a given item. Without this baseline, it's impossible to know if a "sale" is, in fact, a good deal. Then, you'll need to figure out which retailer offers the item at the lowest price. Finally, you'll need to factor in expenses that add to the cost of the item. Examples of these additional expenses include lost time, gasoline and shipping fees. Accounting for these additional expenses is very important. For instance, is saving $5 on a gift worth it if it requires you to drive an hour to purchase it?
Use Apps While Holiday Shopping in Stores
There are several apps for your smartphone or tablet that can make comparing prices in stores much easier. Instead of going from store to store to compare prices, or looking up a single item on multiple online retailers' websites, you can use the app to scan the item's barcode or QR code. The app will then automatically tell you the price for that item at other stores and online websites. Some good apps to get you started include RedLaser and ShopSavvy.
Use a Credit Card that Provides Rewards
Assuming you have at least decent credit, you should have no problem finding a credit card that requires no annual fee and provides at least 1% cash back on all your purchases. Many cards will offer higher cash back percentages, even as high as 5%. However, these higher percentages will be subject to spending limits, only work at certain types of stores, or you will have to pay an annual fee to have the credit card.
These cards are fantastic because they offer you cash savings for buying items you would have purchased anyway. Just remember to pay them off in full every month. Otherwise, the interest and fees will surpass any cashback you earn.
Take Advantage of Online Shopping Cashback Websites
When shopping online, there are special cashback websites that will offer a small percentage back to the shopper as long as they go to the cashback website first, before buying the item online. One popular cashback website is Ebates. This is how it works:
Let's say you want to buy something from toysrus.com. Instead of going directly to the Toys R Us website, go to ebates.com first. Sign into your account, then click on the Ebates' Toys R Us Shop Now button. This will immediately take you to toysrus.com and then you shop like normal. But after you place the order, you'll get up to 4 percent cash back in your Ebates' account. Once you accumulate enough cashback money, you can withdraw the cash with Paypal.
Take Advantage of Group Buying
If you're looking to buy something that many other people are also looking to buy, you can try saying a few bucks with a group buy. You can make your group buy with a local group of individuals, organize one through social media or participate through an established group buy website, like livingsocial.com
Look for Free Shipping
Shopping online often requires the additional cost of shipping. But most online retailers will have sales and specials where you don't need to pay for shipping with a special promotional code or if you make a large enough order.
Use Price Matching
Many stores have price matching policies where they'll beat or exceed their competitor's prices on any item they sell. But before you take advantage of a price match policy, make sure you know how it works and expect many policies to exclude online prices.
Visit your nearest Title Tree store for more tips on spending less on holiday shopping – or if you need a little help making ends meet right about now.