How Much Should I Save for a Disney Vacation? If You Plan Well, You Can Do Everything On Your List.
Are you thinking about starting a Disney vacation savings plan? Asking, "How much should I save for a Disney vacation?" When it comes time to plan a trip that everyone in your family will enjoy, you can't go wrong with Disney. However, if you're on a tight budget, we need to warn you—it's easy to overspend during your stay. Putting aside enough money before you depart is the best way to make sure you don't find yourself out of cash. Follow these tips to plan a vacation that is right for your family.
The Most Magical—and Most Expensive—Place on Earth
The popularity of Disney is at an all-time high. For many families, visiting the parks is a trip they'll never forget. But, no matter your financial situation, make sure you set a budget before you leave. It's easy to get carried away, and you don't want to spend more than you can afford. You can plan an amazing vacation within one of these three spending ranges:
Budget-Friendly:
If you don't have much money in the bank, you can enjoy Disney without relying on credit cards. Book a chain hotel outside of the park and buy single-day park tickets without park hopping privileges. Purchase your food outside of the parks, and forgo any expensive souvenirs.
Mid-Range:
If you have a bit more leeway in your finances, you can afford a moderately priced hotel room inside the park. Park hopper tickets will also fit into your budget, giving your family more entertainment options. The standard Disney dining plan should cover your meals, but you should still set a firm limit for souvenirs.
Big-Spender:
If you have an unlimited budget, go ahead and stay in the ritziest hotel in the heart of Magic Kingdom. You can buy park hopper tickets with all the bells and whistles, and don't forget to enjoy all your meals at the best restaurants the parks have to offer.
What will all this cost you for a 4-day vacation? Assuming your trip is for a family of two adults and two children, you'll pay around $2,500 to travel low-end, $4,100 for mid-range, and over $7,000 as a big-spender. Depending on which tier you select, you'll need to start padding your Disney savings account accordingly.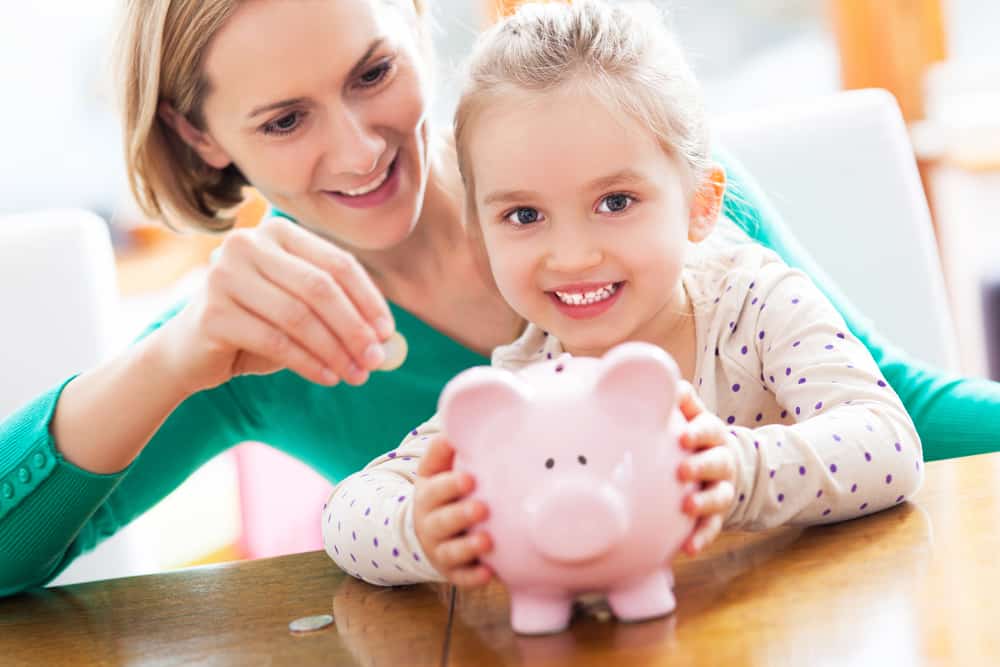 It's Never Too Early to Save for Disney
The sooner you begin saving for your trip, the sooner your family will be on the Tower of Terror. Many families start setting aside money for their dream vacation about a year in advance. While this may sound excessive, it's actually a smart idea. Instead of setting aside large quantities of cash right before you leave, you can save a few dollars here and there. You won't even miss the money!
How much should you save? If you want enough cash to enjoy a budget-friendly trip, saving $200 a month will leave you with $2,400 after a year. That's a mere $50 per week! If that number still seems too high for your finances, look for other ways to trim your spending. For example, you can make coffee at home instead of picking up a latte every morning. Instead of eating out, pack your lunch for work, and start cooking meals at home. It's astonishing how quickly these small changes will help you reach your savings goal.
If you think you may tap into your trip savings, put it somewhere that's not easily accessible. An online savings account is a great option. You can even set up an automatic transfer from your regular checking account to your new savings account each time you get paid. Choose an online bank with the highest interest rates to earn even more free cash for your trip.
Consider signing up for a budget tracker to keep an eye on your finances. These tools let you see and manage your money from a single dashboard. You'll also be able to tweak your budget if you want to start setting more cash aside for your vacation.
Shop Around Before You Book
The prices for hotels and airline flights change daily. These expenses make up the biggest chunk of your budget, so you'll want to do everything possible to get a fair price. Before you settle on a flight ticket or a room, make sure you allow yourself plenty of time to shop around.
Hotels want to sell every available room. If you notice a hotel still has plenty of vacancies during your desired travel dates, consider waiting a little bit longer to pull the trigger. The hotel may lower their rates to avoid any empty rooms. As soon as the price drops, that's your sign to book.
You can also save money by picking a smaller room with fewer amenities. Sure, that in-room, Mickey Mouse-shaped Jacuzzi sounds fantastic, but is it worth the cost? Remember—you'll spend most of your free time exploring the parks, so you don't need every bell and whistle in your hotel room.
When it comes to buying plane tickets, skip first-class, and purchase coach tickets instead. Unpopular seats, like those near the back of the plane, tend to sell last. You may be able to get those seats for a reduced rate. Avoid traveling on the weekends, as those flights tend to be more expensive. If you don't mind waiting, you can opt for standby tickets—but this is not the best option if you have small children flying with you.
Pick Your Disney Travel Dates Wisely
Do you want to travel to Disney during Christmas? Well, so does everyone else. While it may be magical to see the parks lit up for the holidays, you should expect to pay a premium. If you want to save money, travel during the off-season.
Most travel agents will tell you that Disney parks are the least crowded—and the least expensive—January through March. You'll also enjoy an attendance lull in September, right after the kids go back to school. If you can travel during these times, you'll find the best deals. And, as an added perk, the line for Splash Mountain won't be as long.
Planning a family trip to Disney is exciting, and it doesn't have to cost you an arm and a leg. Knowing how much you want to spend before you leave will ensure you don't go over budget. There's no reason why you can't have a memorable trip and save some cash in the process.
It can take time and practice to learn how to make a Disney vacation savings budget. If you need a bit of wiggle room, a title pawn can help. Call or visit your nearest Title Tree store to find out whether you qualify.