Want to know how to create a vacation savings account that actually works? Here are the top secrets to help save for your next trip.
Do you know how to create a vacation savings account? You want to go on a big trip, but you're not sure how you will be able to afford it. After all, your other financial obligations don't go on hiatus just so that you can head out of town. If only there were ways to put aside enough money for the vacation of a lifetime.
Well, good news: we've got you covered! All you need is a separate savings account and the will to save. Before you know it, you'll be on a plane to an exotic destination. Follow these simple steps:
Open a Savings Account
If you want to save for a getaway, you need somewhere safe to store your funds. A savings account is a perfect option to help you put away the money you need for a fantastic trip. And no, that doesn't mean you should add cash to your existing bank account. You should open up a savings account that is separate from your other financial records.
It only takes a few minutes to sign up for a new savings account. You can start with your current bank to see if they have any promotional offers. Make sure whichever account you open doesn't have any hidden charges, such as monthly service fees or minimum balance penalties. The goal of a savings account is to save money—not to pay it to a bank.
Always look for a bank that pays interest on savings accounts, no matter how much money you keep in the account. You should also compare interest rates before you commit to a financial institution. Many online banks offer more competitive interest rates because they have less overhead. Take the time to shop around so that you don't miss out on a great deal.
Pay Your Vacation Fund First
Once you have a savings account, you have to start putting money into it. After all, cash doesn't grow on trees or manifest out of thin air—although it would be nice if it did. Decide how much of your income you can allocate towards your getaway fund. Can you save 5% of your paycheck? What about 10%? The more you're able to set aside, the faster you'll meet your vacation goals.
Have your employer direct deposit a certain percentage of your paycheck into your vacation savings account. You won't even miss the money, and the more you feed your account, the sooner you'll be relaxing on the beach or sightseeing in the city. Resist the urge to check on the process of your savings account each week. It's more exciting to see your account grow by reviewing it every month or two.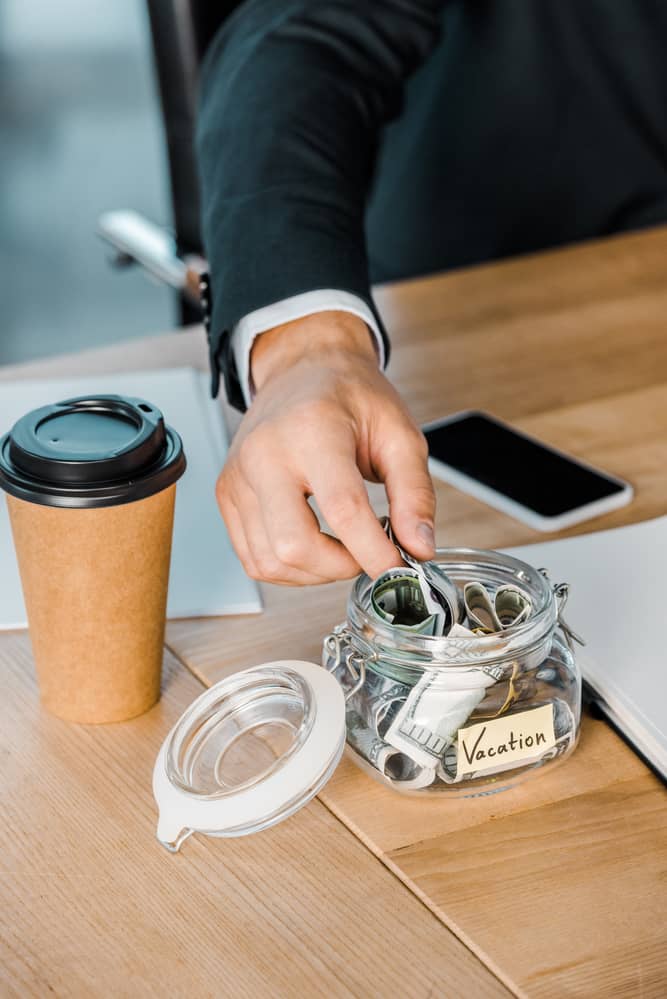 Find a Part-Time Job
If you have room in your schedule, consider picking up another job. Many companies hire temporary and part-time workers throughout the year. Consider applying with a recruiting agency to help you locate a flexible employer in your area.
Even if you have a tight schedule, you can still find another job that offers you the flexibility you need. Many companies prefer to contract workers to complete simple, less frequent tasks, known as micro-jobs. Many of these jobs let you work from the comfort of your own home, and best of all, you can pick how often you want to accept a task.
When you finally get your first paycheck, don't spend it on yourself. Instead, immediately deposit it into your vacation savings fund. Continue to live off your primary income, and let your new endeavor pay for your upcoming trip.
Create a Firm Deadline and Pick a Destination
Goals require deadlines. If you can't see the finish line from where you're at, you won't feel motivated to continue in the race. Decide when you want to go on a trip, and mark that date on your calendar. Go ahead and ask for time off work now so that your boss won't deny your request.
You also need to figure out where you want to visit. Do you enjoy sunny, serene environments, or would you rather see the nightlife of a big city? Hang photos of popular designations around your home and work area—any place that you will see them each day.
Look online to determine how much travel and accommodations will cost you. If you want to fly, make sure you get a reasonable estimate for a roundtrip ticket. You can sometimes save money by flying standby or choosing connecting flights. Hotels get cheaper if you wait until the last minute to book. Managers want to rent out every room, so if you can find a vacancy right before you leave, you're sure to get the best deal. A booking website can help you compare reviews and prices before you make a final decision.
Get the Most Out of Your Vacation Savings
When you finally hit the magic number, you're ready to take the trip of a lifetime! But, remember, you don't want to overspend while you're on vacation. Just because you saved up enough money to take the trip doesn't mean you have a  never-ending cash flow. You need to plan a strict budget for every day of your vacation.
How much can you spend on food? Do you have any cash on hand for souvenirs? Make sure you have enough flexibility in your budget for unexpected expenses, such as a sudden illness or that must-see landmark. Flip through vacation guides to find coupons and deals for tourists. You may be able to save money on tickets to an event or get a free appetizer at a local eatery—every dollar counts!
Rollover Your Savings for the Next Year
Once you return from your dream vacation, it's time to start preparing for your next adventure. It's never too early to begin planning, and you already have a surefire system in place. Don't be in a hurry to close your new savings account; continue contributing to it instead. As saving money becomes second nature, you'll discover other creative ways to set aside cash for trips or other big purchases.
Anyone can save for a vacation, no matter how much you make from your regular job. Think outside the box to come up with innovative ways to fund your savings. It can take time and practice to learn how to create a vacation savings account. If you need some wiggle room in your budget, a title pawn can help. Be sure to call or visit your nearest Title Tree store to learn whether you qualify.