For those trying to save even more money, here are some tips on how to save money at Walmart.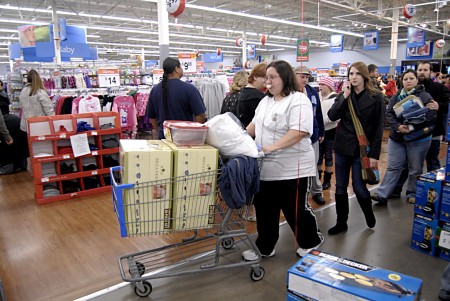 Walmart is a convenient place to find what you need, but do you want to know how to save money at Walmart? Read the following list of tips and secrets to find out.
Secret #1: There's a Clearance Aisle
Most Walmarts have a special aisle or two devoted to items that have marked-down prices. These will usually have red tags on them and often consist of discontinued or seasonal items. If you're lucky, you can find items that are not only very cheap, but can actually make you money if you decide to resell it. For example, Walmart may be trying to get rid of several items and clear inventory, but you can find those same items for double or triple the price online on places like eBay. It's rare, but it does happen.
Secret #2: Prices Can Predict Future Price Drops
Items that have prices that end with a 7 are the normal price. If the price ends in a 5, such as $10.95, it means the cost of the item has dropped once, but it may drop again. If the item has a price that ends in a 1, it means the items probably won't get any lower in price.
Secret #3: Use Walmart's Savings Catcher App
Many stores, including Walmart, have special price match guarantees that state if you find a cheaper price at another store, they'll match or beat it. That sounds great, but it takes a lot of work and time to find these price differences. For many shoppers, it simply isn't worth the added work in the off-chance you may be able to take advantage of a price match guarantee. Walmart has an app that changes all that.
Walmart's app goes by the name of Savings Catcher. This app allows you to scan your Walmart receipt the app, which will then look for local competitors and see if they have a lower price on the same item you just bought at Walmart. If they do, Walmart will credit you the difference.
Secret #4: Cheap Electronics May Be in Glass Cases
Not all electronics on clearance at Walmart wait for purchase in the clearance aisle. Instead, they're sometimes in the electronics' section under lock and key behind glass. If you're looking for a good deal on electronics, consider checking the items behind the glass, close to floor level. They may not even have a price tag, which is often a sign they're on clearance.
Secret #5: Consider Using Walmart's Pharmacy
You can purchase a variety of common generic drugs for $4 for a 30 day supply. This is often cheaper than many other brick-and-mortar pharmacy options.
Secret #6: Order Online
In an attempt to compete with Amazon.com, Walmart now offers free two-day shipping on purchases of $35 or more for many items sold on its website. If you want to save time and money on gas, and don't need something immediately, don't hesitate to buy it online from Walmart's website, and then wait for it to arrive on your doorstep in 48 hours.
Secret #7: Use a Cash Back App
Certain apps, such as Ibotta, will allow users to receive cash back on items they purchase. All the shopper has to do is upload a photograph of the receipt. Using this app will improve your ability to take advantage of any of Walmart's promotions or deals.
Secret #8: Use Coupons
Walmart accepts coupons, just like any other retail store. So there's no reason not to use them while you buy items from Walmart you would have purchased anyway.
Secret #9: Take Advantage of Walmart's Price Match Guarantee
Walmart promises it will match any price, even from an online retailer, as long as the other retailer's item is identical and in-stock. Walmart's guarantee also applies to its own prices. So if you buy something from Walmart.com, then it's later listed at a lower price, Walmart will pay you the price difference.
Even if you're working on how to save money at Walmart, you may need a title pawn to help you in the meantime. Come on in to Title Tree, and we can help you get the cash you need.