What are the easiest ways to save money fast when your job is on the line?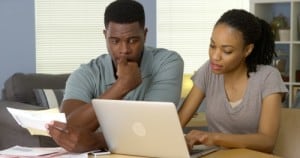 When emergencies like layoffs strike, you need to save money fast. How prepared are you to shrink your bills? There are several strategies for balancing, juggling and minimizing your expenses you may not know about.
Here are the top ways to conserve your monthly budget and start saving as quickly as possible:
Invest in involuntary unemployment credit card (IUCC) insurance.
If you have substantial credit card debt, get on top of how to cover your payments now with this easy-to-understand guide on IUCC from Investopedia. Payments are often less than 1 percent of your balance, and coverage will take care of your minimum balance each month if you're laid off. Just make sure the credit company's insurance has a history of paying – and reporting the payments – on time. If your balances are reasonably low, pay them off instead or start paying the minimum each month while socking the rest into a savings account.
Save money by putting non-essential purchases on hold.
According to The Simple Dollar, there are many non-essential items you can put on hold for a while. Cable, the local paper and even cell phone services get paused for people while they're on vacation. Call the companies responsible for any monthly services you won't have to rely on to find a new job, and see if you can take a temporary break. If you're on a contract, however, expect your end date to be extended by the number of months your services on hold.
Save money fast with rebate offers.
The list of rebate apps and websites continues to grow, and each one gives you the ability to save money on your purchases. Sign up with your local store or search for opportunities over your smartphone or online. Currently, the most popular options include: ibotta, Checkout51, ShopatHome.com and eBates.com.
Save money by adjusting your thermostat.
If you're anything like the rest of Atlanta, your monthly energy bill is a major drain on your finances. Cut yourself some slack by adjusting your normal indoor temperature by a few degrees. The US Department of Energy calculates savings at roughly 1 percent per degree per 8 hour shift, so if you only turn down the heat while you're at work, you can still see hefty benefits. Of course, controlling your home's temperature with a programmable thermostat will provide the biggest budget boost, and nearly all units in use today have these features. If you aren't sure you can set it yourself, you can pay an HVAC tech a small fee to do it for you.
Save money by cooking at home.
This is an excellent strategy for cutting costs whether you're getting a quick bite after work or entertaining with friends. It's also one of the easiest sacrifices you can twist to feel like luxury living. This savings method begins by drinking lots of water too, so your body benefits from day one. A glass before your meal, and another glass served along with your food will keep your from purchasing more expensive drinks, and you'll feel full faster so you'll all eat less food.
The key to breaking away from prepared food purchases is to always have something on hand to eat that is tasty and fast to make. Crockpots pose big benefits in this department, as supper can cook while you're at work and anyone can serve themselves a hot meal once they get home. The convenience can't be beat, but it's not the only option. Many dishes can also be made ahead of time and be kept in the refrigerator or freezer for fast and easy reheating.
The above tips will help you build up your savings in no time, leaving you in a stable position to handle a layoff without losing your shirt. However, if you're still working on learning how to save money fast, an auto pawn could help. Call your nearest Title Tree location for help now.