Higher learning is expensive, so learn how to save money for college.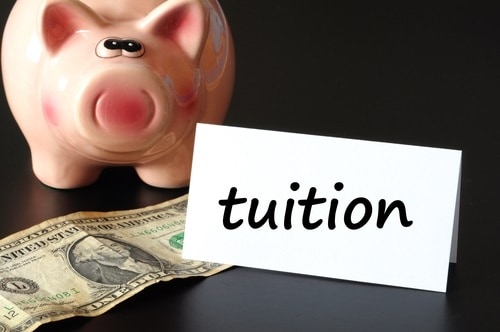 It's about that time of year of when high school students and parents rack their brains to find ways on how to save money for college. Even if you're lucky enough to have a full scholarship or money in the bank to pay for higher education, there are still ways to save money and make the financial burden of college attendance a bit less stressful.
Create a Budget
To find ways to save money, you'll need to figure out your expenses. If you're living with your parents, you won't need to budget for dorm or apartment costs. Or if you don't have a car but take public transportation, you don't need to worry about car insurance or gasoline expenses, but you'll need to calculate how much that train or bus fare costs. From there, you can look for ways to save money.
Find Roommates
If you're able to live off campus during your freshman year, finding roommates makes the cost of an apartment much cheaper. Let's say a one bedroom apartment is $1,000 per month. A two bedroom apartment from the same complex won't be $2,000 per month. Instead, it will probably range between $1,200 and $1,600 per month. Even at the higher rate, your share will only be $800, which results in $200 in monthly savings.
Learn How to Cook
Learning how to cook won't be much of a money saver if you live on campus and pay for a monthly or semester meal plan. But if you are responsible for obtaining your own meals, whether you order in, take out or cook, you'll soon learn how much cheaper it is to make food yourself. It can also be a time saver if you cook in large batches and store your leftovers for eating at a later time.
Cut the Cable Cord
If living on your own, go without TV. There's so much to do while in college to stay entertained and many other opportunities to get your TV fix. Over-the-air channels are free, as are many movies and TV shows online. If you must watch live sports or binge-watch the current TV offerings, you may have a friend you can hang out with and watch TV with or who might let you borrow his or her Netflix account.
Go Yardsaling and Thrift Store Shopping
If you need to furnish your dorm or apartment with utensils, household supplies or appliances, don't buy them new. Go to thrift stores and yard sales to buy gently used household items and appliances. You'll save a ton of money and only need the items for a few years, so quality isn't as important of a factor.
Have Your Own Yard Sale
Before moving to college, you might want to downsize your personal belongings. Your apartment or dorm room probably won't be large enough for you to keep everything. So instead, get rid of things you won't need. When you're in college, you won't even realize they're gone
Take Advantage of Student Discounts
Many retailers and restaurants provide a variety of student discounts for meals, services, and products, such as five or 10 percent off the purchase price. So don't be afraid to tell them you're a college student. But keep your student ID handy to prove it!
Get a Student Checking or Savings Bank Account
You'll probably want a checking and savings account while in college. But there is no need to pay for it. Most banks offer a free checking program for students. There may be a minimum balance, but it will be a reasonable amount that the typical college student can maintain.
Look into an On-Campus Job
Working on campus is a great way to earn extra cash to save. One of the best jobs is working as a resident advisor for a dorm. Most schools will provide free or drastically reduced room and board for students who agree to help run and oversee student dorms.
Stay on Your Parents' Insurance
Staying on your parent's car or health insurance is so much cheaper than purchasing either on your own. Thanks to the Affordable Care Act (also known as Obamacare), college students who are dependents can stay on their parents' health insurance plans until they turn 26.
Visit your nearest Title Tree store for more tips on spending less – or if you need a little help making ends meet right about now.