Want to learn how to save money living alone so you don't need a roommate?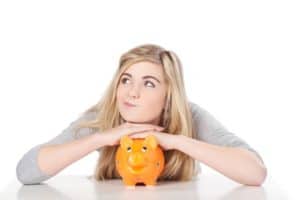 It's important to learn how to save money living alone, especially if you like your privacy. Most singles have every reason to be tempted to take on a roommate. According to Psychology Today, single men spend roughly 30.3 percent of their income on housing.  Single women, however, spend an average of 39.8 percent! The good news is you have many ways to save money that won't cramp your style.
Consider these tips for on how to save money living alone:
Play Mind Games.

So many of us start out saying, "I can't save," or "How can I save when…?" Your mental focus needs to change or you'll never stop believing it is impossible. Even if your savings goal is very small, start telling yourself, "I will save…"  Challenge yourself when heading into the store, on your way out to meet friends, or even when you leave for work in the morning. This mental prep puts you in a different mindset, so that saying no to the small things isn't just a possibility, it's a priority.
Start Meal Planning.

Did you know an estimated 40 percent of your grocery purchases wind up in the trash? Meal planning is one of the easiest ways of preventing this kind of waste. It's also the key to avoiding expensive fast-food and restaurant purchases. Pinterest and Instagram are full of meal planning tutorials for singles. Most recipes are simple, affordable and delicious, so what's holding you back? Reserve an hour or two for weekly planning and say hello to a huge financial payoff!
Indulge in Expected Splurges.

The key to blowing your budget? Being too strict from the start. People who cut out all their extravagances are more likely to go on a spending spree.  It's best to start out with a more realistic plan. In fact, the bigger those initial sacrifices, the more you're likely to overspend! Get ahead of this risk by working leeway into your budget from day one. Leave room for a gourmet coffee once a day (instead of three), or a night out with friends once a week. In a few months, you may find budget- and lifestyle-friendly alternatives.  Switching to brewing your own coffee or hosting a movie night for friends at your home are options. Just use baby steps to get there.
Consider Cheaper Alternatives.

If you're living alone, you may be investing in services you don't use or need, simply out of habit. Do you read that newspaper, or do you subscribe because your parents did? Do you need the expanded cable package, or did you agree to it to get your cable rep off the phone? Streaming services like Netflix, Amazon Prime, and even NextIssue are offering huge dollars off normal subscription prices. Even cheap cell phone plans can be found with help from companies like Tracfone revamping their services for smartphone use.
Use a Shopping or Rebate Application.

The number of shopping apps available has swelled beyond comprehension. There are coupon apps, rebate apps and even apps that track the prices of products, by retailer, all through the year. There are apps that allow you to turn paper coupons into digital versions, so you don't have to clip them anymore. There are apps for specific stores and those that allow you to search for the best prices in an endless number of online and brick-and-mortar stores. Whether you're a fan of Ibotta or you want to do your last-minute, ultra-budget shopping with Sixty Second Deals, you'll find your smartphone is a gateway to savings. Your best bet to start? Try SnipSnap or RetailMeNot.
Combined, your savings will go further than you ever imagined. You'll have no problem staying solo, which, research says, may be your best option.
Even if you're working to learn how to save money living alone, you may need a title pawn to help you in the meantime. Come on into Title Tree, and we can help you get the cash you need.