Discover how to save money on a wedding without feeling pinched.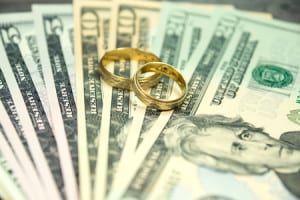 Learn how to save money on a wedding without looking cheap. We've all seen homemade table settings and bouquets you wouldn't let kids take out trick 'o treating. The good news is you can save money without embarrassing yourself. Take these tips to get the ceremony of your dreams without going broke:
Keep an eye on the calendar. Most weddings are held on Saturdays during June and July. Choose a Friday or Sunday, especially during a holiday weekend, or choose a date outside of peak season. According to BuzzFeed, you could save thousands. If you're looking for the cheapest time to get married, aim for wintertime just after the holidays, before Valentine's Day.
Look for venues with built-in décor. University halls, restaurants, botanical centers, and hotels can all provide breathtaking settings without the need for many extra pieces of décor. This saves a bundle over renting a facility and then dressing it up with your own tables, linens and table arrangements. You also won't need to put in the labor to set-up and tear-down your space.
Forget about wedding-specific dresses. You'll save thousands on your ceremony attire by purchasing dresses made for other occasions. Weddings are a cash cow across multiple industries. From shoe manufacturers and dress designers to florists and jewelry shops, prices are always higher for goods meant for weddings. That goes double for items made for brides! You will save a tidy sum just by purchasing a white bridesmaid dress and hiring a seamstress to add some embellishments. However, white prom dresses and holiday gowns are great alternatives too.
Limit your alcohol selection. The venue you select will have a big impact on the beverages you can serve. Your reception spot may provide a full bar or offer one or two specialty wines. You want people to celebrate, but encouraging too much drinking at any event can cause problems. It also inflates your costs. One popular solution is offering a choice of beer or wine along with a signature cocktail. Other couples do without and serve sparkling water and soda instead.
Forgo full meals. Do people really go to weddings for the food? No, and while guests are talking with seldom-seen family members, those expensive eats go to waste. There are so many winning trends you can use to cut down on dining costs at your wedding. Canapés are a new favorite. Your guests can dine on napkins alone, while they move around mingling. You can hire servers or have stations set up throughout your reception area, a wonderful option for those whose guests have special dietary needs.
Provide your own DJ. People coming to your reception don't expect a night club experience. Dropping a few grand on a top-of-the-line sound system and a presenter with tens of thousands of titles just isn't necessary. These days, you can make your own playlist on CD and hook up your computer to a venue's sound system.
Consider a small, intimate wedding. It makes sense that your expenses would shrink along with the scale of your ceremony, but you might be surprised by how much you save. A small wedding of 10 people or fewer can be fit in nearly any location. The same venues that would cost you thousands can be accessed for free on the right day at the right time. Adventure weddings are a stirring new trend and budget almost always demands a minute guest list. All the same, the memories are special in their own way.
Visit your nearest Title Tree store for more tips on spending less while you learn how to save money on a wedding – or if you need a little help making ends meet. We're always here to help.