Is it possible to save money on books without risking your grade point average?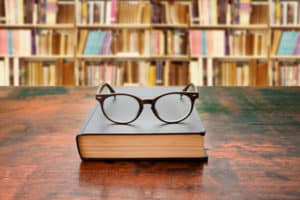 Learn how to save money on books without butting heads with your professors. Many classes today have materials created specifically for them. They're bound by the school press and labeled "Your School" edition. It makes saving money while buying textbooks somewhat of a gamble. However, saving money on books for college has never been easier, and chances are very high your instructors couldn't care less, and that's if they even notice!
Keep reading for the tips you need to save money on books:
1.     Wait for Classes to Start Before You Buy Anything
On the first day of classes, you should have a notebook, a folder and a pencil. That's it. Your instructors will give you a syllabus (a type of blueprint for how your course will go), along with a book and supply list. According to The Penny Hoarder, some of the books you need could be available online for free, or through the library. There's a good chance you'll be using a new edition of a textbook that's been in print before as well. Always ask your instructor if the latest version is necessary. Make it a point you're trying to save money and ask how limited you'd be if you bought a used copy.
Don't forget, your instructors were students once, too. Some of them were likely scholarship kids or students who put themselves through college without help from parents. They're not likely to look down on you for trying to save money, so don't worry about offending them or making a bad impression. They're your best source for advice on whether used books are a worthy investment, so don't be afraid to ask them.
2.     Buy Your Books Online
What if they say you need to buy new? Don't give up and head to the campus bookstore just yet. Look online for cheaper copies. Comparison shop with sites like TextSurf. You can find brand new copies for less, including dent-and-scratch copies available at big discounts (though note, you may not be able to resell them for much).
Check for electronic versions, too. Google Books is just one place you'll find big sales on ebook versions of the latest textbooks, and you can access them straight from your tablet or smartphone. If you go this route, select a reading app with excellent note-taking capabilities.
Is the only reason you need a new book the access code needed for special online features? Contact the publisher about purchasing the code separately, or ask a classmate if you can gain access through his/her account for a small fee.
3.     Consider Rentals and Book-Lending Programs
Many bookstores are offering students another, more affordable option: textbook rental. The rates are cheaper than purchasing, but:
You're expected to return the book in pristine condition;
You can't resell your book to recover any of your costs; and
Not every textbook is available for rental.
If you can resist highlighting and dog-earing pages, and if you'd rather not be stuck with a pile of old books at semester's end, then renting is a worthwhile option. You can look beyond your campus, too. More online retailers are jumping on the bandwagon. Return policies vary, however, so make sure you choose wisely.
Unfortunately, renting isn't available for every book on your syllabus. Consider checking the text out from the library instead. Both your school and public library are possible sources. If the local branch doesn't have one available, inquire on an inter-library loan. And don't forget their ebook programs.
If you're working on learning how to save money on books, an auto pawn could help. Secure the cash you need to keep up your grades while you stay on the road. Call your nearest Title Tree location now for help.