Discover how to save money on food for a group without going broke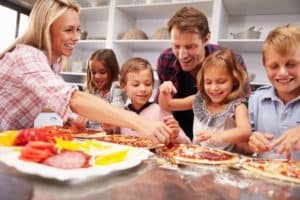 Know how to save money on food for a big family? You can have nutritious, tasty meals while spending less. You won't have to make everything from scratch or give up hours of your time each week either. Preparation is key to eating well and saving money. Title Tree will show you the ropes!
Plan Your Meals
It's age-old advice, because it works. You drastically reduce your grocery budget when you plan meals in advance. Some people dislike the idea of life being so predictable or of eating things they may not feel like in the moment, so instead of having strict rules about what you're eating, have a set list of meals for the week you can shuffle around when needed. Once you know the meals you're making, create a shopping list, and be sure to check it against the ingredients you already have in the house.
Shrink Portion Sizes
According to the National Heart, Blood and Lung Institute, portion sizes have more than doubled in the last 50 years, and people now get far less exercise than in the past. The results can be seen in bloated waistlines and an increased risk of serious health problems. By measuring portion sizes, you can help your family transition to the meal sizes most beneficial for them, and you'll save money on groceries in the process. Compare your ingredient list with portion sizes to determine how many items you'll need to buy to last through the week (or longer).
Have Your Groceries Delivered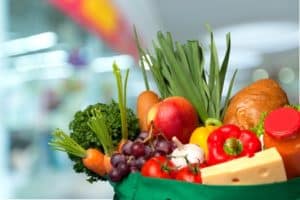 While grocery delivery costs money, it's nowhere near the amount you'll likely waste by going to the store. Buying online or over the phone helps you stick to your grocery list. This also increases the chances of using your food while it's still good. An estimated 40 percent of groceries are thrown out due to spoilage.
Make Meals in Advance
For many years, it's been popular for busy parents to save money by making meals in advance and storing them in the freezer for quick reheating. This makes meal prep on work nights incredibly fast and easy. It also helps you avoid one of the biggest wastes in your food budget: stopping for a quick bite from a fast food restaurant. Unfortunately, there are certain foods you can't freeze without impacting their quality in a big way. Meat, pasta and rice may change flavor or turn to mush upon reheating.
Budget for Bulk Items
Wholesale clubs like Sam's Clubs have made buying in bulk popular, but buying the wrong items or purchasing ingredients in quantities you won't use by their expiration date is a losing deal. Be wary of buying in bulk, unless it's an item you know you'll really use, and, even then, make sure you can't find cheaper alternatives elsewhere. In recent years, prices on family packs and larger bundles have slowly crept upward, and shoppers seldom notice.
Save and Serve Leftovers
Making a meal for a large group often means rounding recipes up and making just a little more than needed. What happens to the leftovers? According to the American Chemistry Council, 76 percent of Americans throw out leftovers every month. But over half of those who do use leftovers take them to work to eat for lunch. That's a money-saving move that's also incredibly convenient, capable of delivering a one-two punch to your budget.
Visit your nearest Title Tree store for more helpful tips on how to save money on food when you're cooking for a crowd, or even if you need a little help making ends meet right now.