Want to know how to spend less on groceries? Stick around, and find out!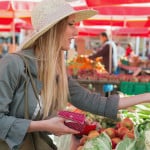 Learning how to spend less on groceries is pretty easy once you accept it can be done. For parents especially, this may seem insurmountable. The last thing you want to do is risk future problems by contributing to your kids having a bad diet, but you don't have to skimp in order to save.
Follow these trips from Title Tree, and your family will be well-fed while despite a tighter food budget:
Saving on groceries begins with your meal plan.
Today's busy families rarely sit down to eat all at the same time. This can lead to multiple breakfasts, lunches and dinners being prepared every day—an expensive way to run a household. Worse, unless you're making everyone a meal yourself, chances are there's quite a bit of fridge grazing going on. What does that lead to? Missing ingredients and last-minute trips to the store, known for blowing the strictest budget.
What if we told you could share the same meals even if you aren't eating together? You can, and it's an excellent way to save. For instance, make-ahead foods can be saved in the fridge or freezer for easy reheating, and they take just a few minutes longer to prepare. Crockpots are also an easy and convenient way to keep meals affordable when everyone eats at different times. You aren't limited to chili or BBQ beef sandwiches either. AllRecipes.com is a great source of both crockpot and make-ahead meals, and the site has a menu planner and shopping list to make trips to the store quick and easy.
Cut your food budget by using a realistic grocery list.
This step is especially important if you're just shopping for yourself. In fact, you probably have at least one friend whose whole grocery list includes tuna, lettuce, ice cream and wine. The problem is, that person is also likely to write down something far healthier than that—buy it—and then have to return to the store later to buy what they really intend to eat.
An accurate ingredient list is a lot like making a realistic budget. Whether or not it's perfect, honesty can only help you make the best changes. Go over your list, and consider affordable alternatives. For instance, instant macaroni and cheese single servings can be replaced by made-ahead mac and cheese placed in single-sized containers. Refrigerated or premade cookies, sweet drinks and most microwavable meals can be replicated for less on your own dime, and many times, they don't take much time or cooking skill.
Use coupons and rebate apps to cut your grocery costs.
If you're smartphone user, you'll have plenty of savings right at your fingertips. Get $.25 to $1 a more per purchase. Just scroll through the deals on Ibotta, Check51 and similar platforms, check the deals you're taking advantage of and then scan or take a picture of your receipt. For those without a smartphone, there are also web-based rebate sites to take advantage of.
If you're looking for more traditional savings, consider joining coupon sites like CouponMom.com. You can get a full list of the deals available in your area, along with the coupon mailer, printable manufacturer's coupon or rebate site it's connected to. You can also buy bulk coupons online at sites like eBay.com and through private coupon exchanges and local sale sites found on Facebook.
It can take time and practice to learn how to spend less on groceries. Unfortunately, that might not help if you need more money for food overnight. If you're struggling to balance your budget and need a bit of wiggle room, a title pawn can help. Call or visit your nearest Title Tree store to find out whether you qualify.