Want to know how to spend less on your groceries without micromanaging every purchase you make?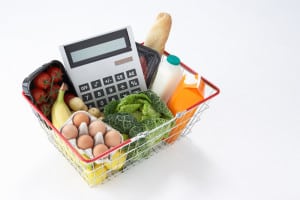 Do you know how to spend less on your groceries without driving yourself coupon crazy? It's easier than you might think, and the solution is surprisingly simple. Discover the secret to shrinking your food bill before the start of the New Year. Try these simple tips, and we're sure you'll have more than enough healthy, filling food in the house without breaking your budget.
Consider these five methods to take a bite out of your grocery bills:
1. Stop eating out, save money.
Recently, the Centers for Disease Control and Prevention, otherwise known as the CDC, shocked the country with findings from a recent study. This study revealed that every day nearly one-third of US children eat fast food. Chances are, whether or not you have children, you ate at a McDonalds or Burger King recently, and those meals – meager in nutrients though they may be – have a significant impact on your monthly budget.
2. Make your kitchen cook-friendly, save on your groceries.
Despite nearly every home and apartment in the country having a kitchen, a surprising number of people don't have a real way to cook from home. When they do make food at home, they lack the right supplies – pots, pans, silverware, small appliances – to make complete meals, and instead rely on the few items needed to reheat prepackaged foods.
This is a growing problem because, if you have children, they aren't learning how to make affordable, healthy foods from you and will have to rely on expensive, low-quality foods too. Change your habits by creating a kitchen that is cook-friendly. Invest in the essentials you need to make healthy foods.
3. Cook in bulk, save money on every meal.
Buying in bulk is an easy way to save money, but cooking in bulk actually has a bigger impact on your budget. Make a large meal and split it into portions, then freeze what you don't use in one night.
The next week, your supper can be as simple as placing a dish in the microwave for a few minutes. To get started saving, consider checking out Make-Ahead and Freezer Meals on MyRecipes.com. With careful planning, you can successfully move your cooking to one day a week, saving time as well as money.
4. Use weekly meat deals to plan your menu.
Paying attention to weekly specials is an easy way to tap into big bargains without clipping coupons. Most stores have a reduced meat selection every week. You can use these deals to drastically reduce the cost of your cooking, but you need to take advantage of them in time. Find out what days these deals are released, and stay on top of announcements. Once the weekly special is released, head to a site like MyFridgeFood.com to find new recipes based on ingredients.
If supplies run out before you get to the store, consider shopping trim specials. Odds and ends leftover from major cuts can be found for pennies. Use them to embolden flavors and add bulk to soups, stews, pasta dishes and casseroles.
5. Eat vegetarian a few times a week, cut your grocery bill.
Meatless and vegan recipes work in flavor, texture and heartiness without weighing down your grocery bills. Replacing your normal routine with just one or two new meatless meals each week will go a long way toward big savings. With the right recipes, you can keep your meals as healthy, filling and meat-like as possible. Your family may not even realize they are eating vegetarian!
Even if you're working to spend less on groceries with these new methods, you may need a title pawn to help you in the meantime. We can help you buy the kitchen supplies you need or buy quality ingredients in bulk as you get started.
Come on in to Title Tree, and we can help you get the cash you need until you've mastered affordable food spending.