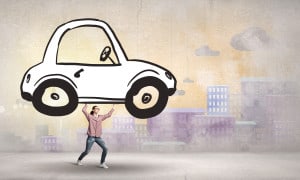 It's not second nature to know how to stretch your budget. You get used to a standard of living, and you know there are expenses to maintaining it. Once your income changes, it can be very difficult to adjust your budget without your quality of life momentarily going in the toilet. There are a few easy changes, however, that can open up thousands of dollars in your budget and allow for those daily expenses capable of keeping you comfortable.
Shave thousands off your basic expenses in the following ways:
Buy a Car Secondhand
You can get the best deals on cars that are two to three years old. Considering depreciation, dealing directly with buyers versus car lots and taking advantage of crisis sales, you can save a considerable amount of money. For instance, most of the cars listed on Craigslist are already below Kelley Blue Book pricing, but you can also find superb deals. Many sellers, for instance, are desperate for a way out of a car payment and willing to take a loss in order to do it.
One recent seller listed a 2013 Kia Optima EX in excellent condition for $14,000. Another was selling a 2014 Toyota Corolla for $12,000. Why? They'd lost their jobs and needed money ASAP. You can find good listings by searching for cars in the "owners only" auto section and by using phrases like, "must sell." If you're used to driving a new car every few years, buying a used car through private sales is a small adjustment capable of overhauling your budget.
It's important to check these cars out thoroughly, and to be mindful of local laws. In Georgia, a seller should provide you with a Bill of Sale, a copy of the title and an accurate odometer reading at the time of purchase. You can use other documents, such as a CARFAX report, to determine accident and purchase history before you buy.
Buy Used Appliances
Secondhand sites are flooded with appliances, but many appliance stores sell them too. After collecting old units while they're installing new models, stores often refurbish them and sell them to clients with lower budgets. These units are usually reliable and in good condition. Aside from reflecting the latest designs, purchasing used appliances can help you save a significant amount of money without sacrificing features or function.
Switch to Thrift Store Shopping
Whether you're in need of a new shower curtain or a playpen, thrift stores and garage sales are perfect options for home product needs. Many sales are now listed online, so you can contact the homeowner and ask if they have anything specific. Other times, you may have to stop at a few places before finding all you need. However, shopping these sales provides a tremendous savings.
You can also purge the urge to spend by buying secondhand items at these places. Shopping trips with friends were never more fun or affordable, and you can add a competitive element to ensure you're all staying within your budgets. Who can get the most for less? New-to-you items can provide you with all the essentials you need while helping you stay within your means.
We hope these tips on how to stretch your budget will help you make your money go farther than ever before. However, if you run into the need for additional funds, Title Tree is always here to help you.
Call 404-410-6559, or come in to the Title Tree nearest you for more tips on how to stretch your budget- or if you need a little help making ends meet right about now.