Looking for tips on how to stretch your groceries budget for big groups?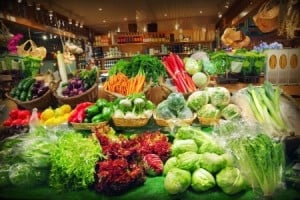 It's easy to learn how to stretch your groceries budget for spring break and other times of year when you're cooking for more people than normal. It's also easy to freak out and assume there won't be enough to go around. Let Title Tree put your worries at ease.
The following tips will help you to make more than enough for your guests to feast on, but even if you find your budget lacking, we're always here to help you pick up the slack. Now let's get started on trimming the fat in your meal budget, so everyone fills up on tasty, wholesome foods while at your house.
Stretch Your Meal Budget and Keep Cooking Easy
If you're going to have your home filled with people, you'll have less food and less time. This makes it essential to stick with foods that are easy to prepare and serve to large groups. Of course, taste will make a bigger difference too because these are folks you don't see every day. You'll want them to associate your home and their holiday stay with good memories, and that starts by pleasing all the senses.
One of the easiest ways to make a good impression is to take a standard favorite and dress it up in a new or exciting way. A good example of this is turning the classic mashed potato and gravy side into a main course overflowing with unexpected flavors.
Potatoes are known to be filling, and when paired with the right ingredients, you'll leave people fuller on smaller portions but still raving over the taste.
Top your baked or mashed potatoes with a cheap herb or vegetable like fresh chives, oregano or green onions. Stir in a small amount of diced ham or bacon with sharp cheddar cheese. Even a small amount of these extra rich ingredients will create a hearty, sumptuous meal that will leave your guests satisfied.
Divvy Up Your Dining Dollars with "All You Can Eat" Servings
This is a tip you can take from restaurants with buffets. If you'll notice, the plates, cups and bowls used at a buffet serving station are often smaller than those given to diners who order straight off of the menu. Why? Simple. Many people will eat less with a smaller plate. When considering whether to go back for another serving, a person has time to feel the full effects of what they've already eaten, so they often wind up taking less the second time around – if they make a second trip at all.
You don't want to buy special plates for guests in your home, and disposable plates literally go straight in the trash. What are some alternatives? Mugs and cups are a cute and convenient option for serving soups and stew, and they tend to hold less than a typical soup bowl.
You can find many flavorful and inexpensive options at MyRecipes.com. Here are just a few of our favorites:
Quick corn chowder
White bean and turkey chili
Pork and hominy
Lentil stew with ham and greens
Roasted chicken noodle
So often, when people come for the holidays, we feel we have to feed them until they can't eat anymore. The truth is, it's the experience that counts. Your guests will appreciate not feeling stuffed, you'll have less leftover food to pack up and your budget will have more breathing room if you focus on quality vs. quantity during spring break meals.
Visit your nearest Title Tree store for more tips on spending less while you learn how to stretch your groceries budget – or if you need a little help making ends meet right about now. If you're already feeling the financial pinch, be sure to give us a call.