Know how to stretch your wedding budget? The answer is simpler than you think.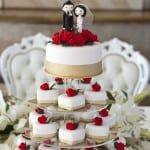 Figuring out how to stretch your wedding budget and still have the wedding you want can seem impossible at first. Getting married shouldn't put your new marriage into the red before you even say, "I do." Debt can cause enormous pressure in any relationship – and you'll do yourselves a huge favor by starting off on stronger financial ground by minimizing the expenses connected to your wedding. That doesn't mean a quick trip to the courthouse, though. You can still have the wedding of your dreams without breaking the bank. Title Tree wants to help make your big day everything it can be, so take these savings tips to heart.
You'll save big on wedding day expenses with the following tips:
Save money when you get married off-season.
Summer, the winter holidays and near Valentine's Day are all popular times of year to tie the knot. Unfortunately, expenses are higher at these times, making weddings in the off-season an immediate bargain. Winter weddings are especially affordable, except for ceremonies held in exotic locales.
Save money when you book your wedding venue.
The average bride spends upward of $13,000 booking just the right spot for her wedding reception. This cost can bloat several times over for sought-after locations. Selecting the right spot is important, but ask yourself how significant this will be in the big scheme of things. Some of the most exclusive venues also have the most restrictive rules, and they're likely to exclusive arrangements with similarly high-priced florists, caterers and even photographers.
Save on your wedding gown by hiring a tailor.
Your wedding gown will remain in your mind throughout a lifetime, so it's important to really stand out. What you shouldn't do is settle for a ridiculous price based on branding. If there's a dress you love with a price you can't afford, take a photo to a local tailor or seamstress. You may be pleasantly surprised by the quote.
Save money on your wedding party.
Brides often get bullied into having completely strangers meet them at the end of the aisle, but your wedding party is one of the first things to shrink if you're looking at a small budget. Two bridesmaids, two groomsmen, the Maid of Honor and Best Man are all that's really needed for any size of wedding.
Cutting back on beverages at your wedding saves money.
The bar is a big expense at many weddings, and it's also the source of much strife. If you're worried about over imbibing or bloated alcoholic costs, get proactive early on. Have a limited alcohol selection, or none at all, and instead stick to wine or champagne for the toast only. Otherwise, serve sparkling juice, water and other classy—yet affordable—options.
Save money on wedding flowers.
Minimalist flower designs are elegant and inexpensive. Check out Pinterest for beautiful ideas that won't cost you a bundle. Stick with simplistic bouquets wrapped in ribbon versus a bountiful display featuring a dozen colors. Consider alternatives for table centerpieces and use flowers sparingly throughout your reception space instead to create emphasis wherever they are placed.
Don't try to save money on wedding food.
Avoid short-changing people on food. Wedding experts agree, reception dinners shouldn't be relegated to appetizers or dessert. Your guests are bringing gifts which will far outweigh the costs of the catering, and they often go to great expense to attend your wedding as well. They deserve a quality meal.
Save money on your wedding cake.
Get creative with your cake. Cake shops often charge top dollar for wedding cakes. Why? They know it's something you'll always remember, and they know how much you're likely paying for everything else. This is one reason the average cost for wedding cakes across the US is $451. So get creative. One hot new trend includes a deconstructed cake, with each layer arranged next to the others, on their own pedestals. Mini-cakes are often less expensive as well, and they take care of those pesky slicing fees.
We hope these tips on how to stretch your wedding budget help you stay in your budget while enjoying your big day like no other. However, if you run into the need for extra funds, Title Tree is here to help you. Come on in to the branch nearest to you, and we can help you get the cash you need.