Curious to find out how much you'll save by cooking at home? The answer may leave you speechless—and hungry.
Have you ever wondered how much money you can save by cooking at home? Sure, everyone likes to go out to eat for a special treat. But, if you find yourself spending more time in the fast-food line than in the grocery line, you may be doing a disservice to your waistline and your budget.
Cooking meals in your own kitchen is not only a fun, creative experience, but it's also an affordable one. Here's a hard-to-swallow figure: it costs about five times as much to order delivery than it does to recreate the same meal at home. Why spend $50 when you can eat a hearty meal for $10?
Best of all, you don't even need to be a professional chef to whip up some delicious meals. All you need is a bit of preparation and the right groceries. Here's how to get started:
Groceries Cost Less than Take-Out
Do you like to participate in "Meatless Monday"? What about heading south of the border for "Taco Tuesday"? No matter what foods you crave, you can make them for cheaper at home. Shopping for fresh food costs much less than picking up processed take-out from a local restaurant.
Even with dollar menus and value meals, restaurants still charge you a premium. Grocery stores, on the other hand, run specials and promotions to entice customers. And if you read the weekly ads, you'll find which meals will cost you the least for the week.
For example, if you find a special on ground beef and bread products, it's time to make hamburgers. When there is a sale on fresh veggies, salads should be on the menu. You can even stock up on certain perishables and store them in the freezer for several months.
And grocery stores carry EVERYTHING. Even if you have a few picky eaters living under your roof (anyone raising a toddler?), you'll find more than enough to tickle their taste buds. Don't forget to pick up your housecleaning essentials and pet supplies while you're there, too. Doing all your shopping under one roof will save you time, money, and even gas!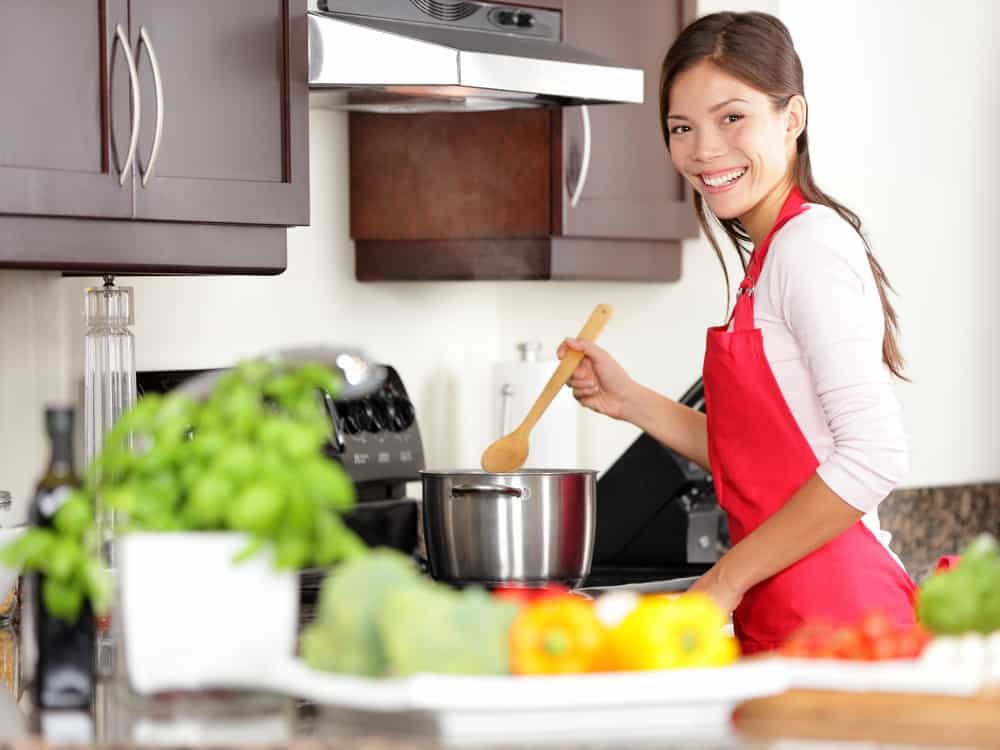 Don't Overlook the Value of a Cents-Off Coupon
Have you ever tossed a coupon because it would only save you a few cents? Maybe you didn't feel the small savings was worth the hassle. That's not always the case. Those who regularly shop with coupons know how fast those pennies add up.
The majority of retailers accept manufacturer coupons. Some stores even offer their own exclusive coupons. When you learn the ropes, you'll find that it's possible to stack certain offers to get the most bang for your buck. If you're lucky, you may even create an overage—that's when the store pays you to shop there!
The world of couponing can feel overwhelming and complicated to the average consumer. If you're a novice, there are plenty of coupon tutorials that teach you how to follow the rules and find the best deals. Imagine how much money you could save by pairing a few coupons with the weekly sales at your grocery store!
Create a Personalized Menu
There's something fun and exhilarating about reading restaurant menus. Perhaps it's all the choices that are available. Or maybe you enjoy discovering new flavors and combinations. But remember, you throw away money every time you reserve a table.
Instead of relying on restaurant menus, design your own. Think of your favorite dishes, and jot down which ingredients you need. Decide which meals you want to create for every day of the week. Not only will you be able to keep more money in your wallet, but you'll find coming up with a daily menu helps to simplify dinnertime.
Stick to a Strict Food Budget
When you need to spend less, you have to create a budget. Sure, everyone must eat, but that doesn't mean you can just spend your money on whatever you're craving that day. Instead, you should know how to allocate every dollar in your food budget.
Finances are very personal; that's why no one wants to talk about money. Before you head to the grocery store, ask yourself, "How much cash can I spend on food?" That number depends on your paycheck, debts, and goals. Your total will vary drastically from your friends and neighbors, and that's OK.
Make sure your budget states exactly how much cash you have to spend every week or month. Never go over that amount. If you go out to eat, you need to subtract the total from your food budget. Seeing how much you spend in restaurants may be enough to break the habit. Once you start cooking at home, you'll find you have more money in your bank account.
Let the Numbers Do the Talking
The average family in Atlanta spends $308 on groceries each month, according to the Bureau of Labor Statistics. The same reports also show that the grand total for food expenditures for each family is around $556. This figure shows that people spend an additional $248 eating out each month. That's a car payment!
If you stopped eating out entirely, you could put that money into a savings account for a rainy day or pay off lingering debts. At the end of the year, you would have accumulated $2976! Imagine all the great things you could do with that extra money. Vacation, anyone?
Take Baby Steps Towards Your Goals When You Save by Cooking at Home
Now that you see the monetary benefits of cooking in your own kitchen, what's holding you back? Sure, it's difficult to quit eating out cold turkey, but think about the money you will save. Start out small and take a few baby steps towards your financial goals. You can start by only eating out twice a week, and if that goes well, cut back to once a week. Before you know it, you'll only go to a restaurant to celebrate a special event—or maybe never at all!
It can take a bit of time before your ease into your new lifestyle. Don't feel bad if you hit a few roadblocks along the way—after all, you're human! Even if you're working to save by cooking at home, you may need a title pawn to help you get started. Visit your nearest Title Tree, and we can help you get the cash you need.