Learn our top tips on how (and when) to save for summer vacation!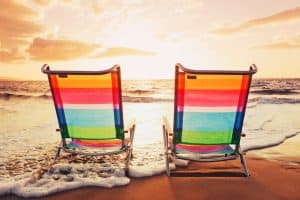 It's never too early to save for summer vacation. Hard-core travel aficionados make saving for trips part of their monthly budget. Waiting too long to set aside money can lead to lackluster plans. Fortunately, a late start doesn't mean you're out-of-luck. Follow these tips to plan – and pay for – the perfect summer escape.
Set a Reasonable Budget
Boo! Bah-humbug! No one wants to talk about budgets before heading off on a great getaway! Unfortunately, smart financial planning needs to be priority number one to avoid post-vacation regrets. There's nothing worse than being stuck at home because you're still paying off the cost of the last year's trip.
Financial experts recommend spending no more than 4 percent of your annual take-home pay on travel expenses. Is that amount too small to do much at all?
Consider increasing your budget to 10 percent of your net income by dipping into your miscellaneous expense fund. Many of these expenses aren't necessary and aren't as enjoyable as a vacation with friends and family.
For instance:
Eating out
Gourmet coffees
Entertainment subscriptions
Upgraded cable, phone or internet features
Consider how much you spend on these unnecessary extras every week. Cut them out of your life, and you might be well on your way to funding an unforgettable summer vacay.
Still don't have much to spare in your budget? Keep reading to stretch your money as far as possible.
Check out Vacation Discounts — But Be Sure to Do Your Research
Groupon, LivingSocial and similar coupon sites often have astonishing sale prices on activities, food and lodging. Some international destinations even bundle airfare into the price. CheapCaribbean, Costco and Travel Zoo regularly post big bargains. Just be careful and be sure to read the fine print.
In travel, it's very common to find prices on trips, cruises and resort stays aimed at half of a couple. Travel sites publish "lead rates" or "single, double-occupancy" rates. They're what you and your friend would each pay if you traveled together.
Single travelers pay a higher fee, called a "single supplement." This is because a single person will pay for fewer extras on a trip, so the resort or cruise company loses out.
The really bad news? A single supplement for a trip can be double the single, double-occupancy rate.
You also want to make sure there's not a problem with deeply discounted properties. Super-cheap hotels might be under construction or an ultra-low-cost cruise could be headed into hurricane territory at the height of the season. Those deals might turn out to not be much of a savings in the long run. You have to do your research.
TripAdvisor is one of the top sites for rating travel experiences. However, some users have complained about negative reviews being removed without reason. It can be difficult to get an honest impression of a hotel or resort, so you might want to search for blogs before you go, so check a variety of sources.
If the planning stage begins to feel overwhelming, you can always contact a budget-minded travel agent for help. Follow these tips from NerdWallet to find someone qualified near you.
Split the Costs with Friends to Save for Summer Vacation
This tip can help anyone, whether they are flying solo or with their extended family. When it comes to a travel budget, there's power in numbers. At some lakeside resorts, for instance, you can rent a cabin for 12 for nearly the same price as a cabin for 6. Invite another family to split the costs, and you'll both wind up with affordable space in an amazing summer locale.
You can split costs on Airbnb properties, buy theme park tickets at bulk rates and make and serve dinners together for a fraction of the cost of hitting a burger joint or ordering pizza. Breakfast provides families with one of the best ways to save on vacation. Oatmeal, eggs and toast, and pancakes are super-affordable and fill you up enough to go light on lunch when you're out and about.
Content on traveling alone? You could still tap into these savings. Look to sites like Reddit for help connecting with other single travelers who'd like to buddy up to qualify for double-occupancy rates.
Visit your nearest Title Tree store for more tips on how to save for summer vacation – or if you need a little help making ends meet right about now.