There are several strategies on how to save money as a college student.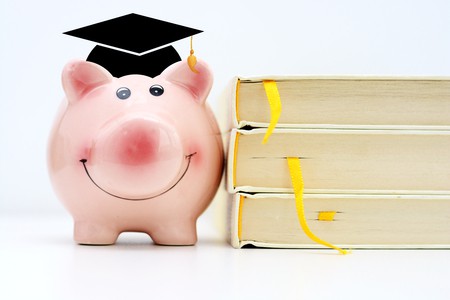 If you're working towards an associate's or bachelor's degree, you may be wondering how to save money as a college student. Luckily, there are a number of ways college students can save money and still enjoy their college experience.
Sign Up for Amazon Prime Student
Amazon.com is one of the biggest online retailers and serves as a one stop shopping location for most shoppers, even those who prefer to shop in stores. But waiting for the order to arrive and having to pay for shipping and handling can be a real burden and annoyance. Amazon.com has a program called Amazon Prime which provides free two day shipping (along with other benefits), but for a $99 per year fee.
But college students can sign up for Prime Student and get the first six months for free. So basically, college students get the benefits of Amazon prime for 50% off. There are other benefits of Prime Student, including discounts on textbooks.
Get a Credit Card the Provides Cash Rewards
College students are prime targets for credit card companies, so there should be a number of opportunities to sign up for a credit card. The trick is to find one that has no annual fee and gives users cash back on purchases. The cash back rewards usually amounts to anywhere from one percent to five percent, but every little bit counts, especially when buying things the college student needs anyway, like school supplies, books and gas.
One thing to remember is that college students need to pay off their entire monthly bill every month. Otherwise, finance charges will undo any cash back rewards and cost the college student even more money. Admittedly, this is much easier said than done with the new found financial freedom college students get with a credit card and the ease in which they can buy far more than they can afford.
Shop at Thrift Stores to Save Money as a College Student
Many college staples are available at thrift stores for major discounts. Clothing and kitchen equipment, such as tools and small appliances are very common for very cheap. Those worried about quality or longevity of the items can relax because they only need to last until graduation and if they break before school finishes, the same thrift store will likely have suitable replacements for equally low prices.
Get a Part Time Job
If the schedule allows for it, a part-time job is an excellent source of money for college students to save. Students worried about losing out on socializing can focus on jobs that are only during the winter or summer breaks.
Use Coupons
Coupons are a simple and easy way to save money on everyday things, such as food and household items. For those willing to put forth the time, they can get hundreds of dollars in free stuff with coupons, although they will need a place to store the massive amount of merchandise. For the average college student, they can expect to save a few dollars each week on their grocery bill.
Take Advantage of Student Discounts
Another great thing about being a student is all the student discounts. Local restaurants commonly have specials or percentage discounts for college students. Other sources of discounts include museums and theme parks.
Hold a Yard Sale
When there are things the college student no longer needs, instead of throwing them away, they can sell them at a yard sale. College towns are prime targets for bargain hunters because they know how eager college students are to get rid of their stuff and make a few extra dollars.
If setting up a yard sale will take too much time, college students can always choose to donate the items to charity (and get a tax deduction) or give them away to those who could use them, like fellow college students or local friends.
Visit your nearest Title Tree store for more tips on spending less so you can save money as a college student – or if you need a little help making ends meet right about now.