Get ready to save money at Safeway when grocery shopping.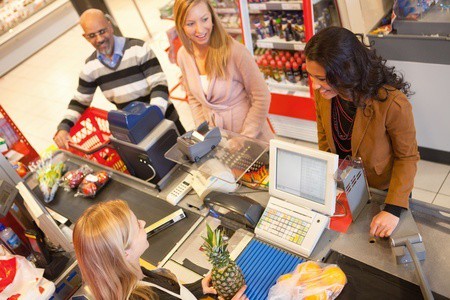 Many grocery shoppers out there probably wonder how to save money at Safeway. This is due to the fact that Safeway is one of the most common and well known grocery store chains in the country. It also turns out that many stores that aren't Safeway still have an affiliation with Safeway and carry the same store brands and implement the same promotions. As a result, many grocery shoppers should be able to take advantage of the following ways to save money grocery shopping at Safeway.
Take Advantage of Gas Rewards
Like some other grocery stores, Safeway offers gas discounts for those who shop at Safeway. For every dollar spent on groceries of pharmacy items, shoppers receive one point. But for every dollar spent on select gift cards, shoppers will receive two points. After the shopper accumulates 100 points, they will receive 10 cents off a gallon.
Customers can use these gas rewards at any participating Sunoco of Safeway gas station. At a Sunoco station, the maximum discount is 20 cents off per gallon, although at a Safeway gas station, the maximum discount is $1 off per gallon. Other limitations include a maximum of 25 gallons per fill-up and one vehicle allowed per fill-up.
Try Online Delivery
Buying groceries online isn't for everyone and it's not going to be the cheapest way to shop for food. It will be extremely convenient and the time saved could end up saving money in the end. But for most people, using online delivery will cost more money – except when they're a new customer. Safeway offers a $20 discount plus free delivery for a shopper's first online order. So for this one time initial purchase, it may actually cost less money to shop online.
Sign Up for the Safeway Club Card
Almost every grocery store has a frequent shopper program and Safeway is no different. By signing up for Safeway's Club Card, shoppers can take advantage of sales, promotions and deals. There's practically no reason not to sign up for the Club Card, unless you like wasting money.
Pay Attention to the Stock Up Sales
Periodically, Safeway will offer a special sale on items that most shoppers love to stock their pantry up with, like cooking staples. Besides the low prices on these items, shoppers will usually get another advantage, such as double, triple or quadruple gas rewards. Unless shoppers can stock up on these items elsewhere for cheaper, such as a warehouse club, this will likely be the cheapest place to buy these items when taking the additional promotion into account.
Sign Up for Just For U
Just For U is a unique programs that does away with paper coupons. Instead, shoppers "attach" online coupons to their Club Card or smartphone app. Then when they check out, the coupons' savings automatically apply to the items purchased. No more forgetting to scan coupons and no more organizing and storing coupons. Just For U can be a great timesaver for those who love to use coupons, but don't always have the time to physically clip them.
Buy Safeway's Generic Store Brand
Buying generic is a great way to save money and Safeway offers great savings on high quality food items. The generic item almost always tastes exactly the same as name brand and when it doesn't, it's quite common to actually prefer the taste of the generic food brand.
$5 Friday Sale
Every Friday, Safeway offers a special sale on items that cost $5 or less. If there's a day to choose to go grocery shopping, Friday may be the best day.
Read Safeway's Fresh Ideas Magazine
Safeway offers its Fresh Ideas magazine to customers and it contains many great recipes and coupons. These coupons are often for items you normally buy, but can't otherwise find a coupon for.
Third Party Apps
Apps like Checkout 51 and Ibotta allow shoppers to get cash back on items they purchase. These apps are free to use and all they require from shoppers is to find offers on products they plan on buying, then provide proof of purchase, such as taking a picture of the receipt. When shoppers buy the selected items, shoppers will receive cash back in their account.
Visit your nearest Title Tree store for more tips on how to save money at Safeway and everywhere else you shop – or if you need a little help making ends meet right about now.