Do you need to save money at Thanksgiving this year? Follow our tips!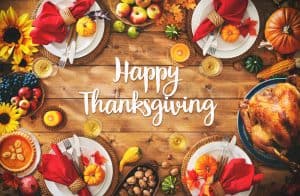 It's not easy to save money at Thanksgiving, especially when you'll have a full house. Food aside, there are so many small expenses when you have guests. If you're not careful, they really add up. Follow this sage advice to stay on top of your holiday spending and provide a welcoming home to your family and friends this November.
How to Save on Thanksgiving Dinner
An easy way to cut your grocery bill during the holidays is by asking each of your guests to bring a dish to share. Potluck-style meals have a homey feel to them and are traditional enough so that they don't seem cheap. Just frame your request appropriately. Keep it excited and upbeat, as if everyone is contributing to something fun. You can also assign dish types to help provide a balanced spread and to give your guests some direction.
Furthermore, you can save on food by purchasing your turkey a few days before Thanksgiving. You don't save by buying your bird in advance. In fact, most stores lower their turkey prices around 20 percent in the days preceding the holiday and stay low all the way through Christmas. Why? Stores use low turkey prices to draw buyers in, knowing they'll stick around to pick up all the fixings.
How to Save on Cheap Thanksgiving Side Dishes
Every family table has one or two dishes you're not likely to find anywhere else. Sometimes they arise from last-minute substitutions or attempts at putting a healthier twist on an old favorite recipe. Other times, it comes down to budget. Here are five inexpensive Thanksgiving side dishes your family is sure to love:
3-bean salad – put a fall twist on a summer favorite with a mix of green beans, kidney beans, and garbanzo beans. Mix ⅓ cup of white vinegar, ½ cup white sugar, 2 Tbsp. olive oil, 1 tsp. salt and ¼ tsp. black pepper. Pour mixture over beans, toss and warm to perfection.
Spiced carrots – peel, oil and season with nutmeg, ginger, parsley or other herbs and spices. Roast for 35 minutes at 350 F.
Sweet potato casserole – top super-cheap sweet potato chunks with a dusting of brown sugar and a bit of butter. Bake 10 minutes at 350 F, then top with marshmallows. Return to the oven until the marshmallows are golden-brown.
Herbed potatoes – thinly slice Russet potatoes. Oil and season with rosemary and thyme. Bake for 35 minutes at 350 F.
Baked apples – core the apple from the top, but be careful not to go all the way through. Add 2 Tbsp. brown sugar and 1 Tbsp. butter. Sprinkle with cinnamon. Bake for 15 minutes at 350 F.  
How to Save Money on Thanksgiving Refreshments
Switching up the way you serve beverages can make a big difference to your holiday food budget. It can reduce your mess and stress for the meal as well. A warm beverage bar sporting the best toppings will wow guests and downplay the absence of expensive soda pop and alcohol from your family meal.
Simply put out a coffee urn filled with hot water alongside Styrofoam cups or mugs for warm liquids and jars filled with instant coffee, hot chocolate, and bags of tea. Have creamer, sugar, and flavoring available for coffee drinkers, and whipped cream and sprinkles or mini-marshmallows for your cocoa fans. As a finishing touch, add a sign saying, "Milk and Chilled Water in the Fridge".
There are plenty of ways to save money on food during the holidays while sending everyone home feeling full. Be sure to visit your nearest Title Tree store for more tips on spending less – or if you need a little help making ends meet while feeding the masses at Thanksgiving.