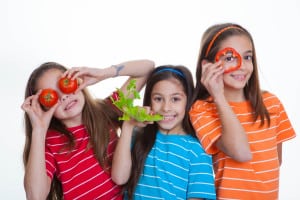 Is it possible to save money at the grocery store while keeping the kids full all summer long? It doesn't take a major sacrifice, and it's likely you'll all wind up eating healthier in the process. Having kids away from home all day during the school year can leave parents unprepared for summer food demands. Take control of your budget by formulating a financial and nutritional health plan for when school is out.
The following tips will help you stretch your summer food budget:
Make money on the groceries you buy.
Some of your kids' favorites are going to wind up in the cart whether you have a budget or not. This is just a reality of being a parent in modern America. They'll have requests, and it feels good to say yes to a few of them. Thanks to The Penny Hoarder, you can treat your kids and save at the same time using these five methods:
Sign up for mobile rebate plans like Ibotta and Checkout51 for easy cash at the click of a button.
Pay for your groceries with a rewards credit, like the Barclay Rewards MasterCard that gives you 2 points for every dollar you spend on food. Even the PayPal debit card offers cash back.
Participate in the Nielsen Consumer Family Panel and get money for scanning grocery items at home.
Enroll with InboxDollars to get paid for using their printable coupons.
Use a site like Pirc to search for the best deals on items you already want to buy.
Shop at stores with the lowest prices on items you regularly buy.
If you don't have a lot of time to plan, and your kids are especially picky eaters who won't be receptive to change, try this easy way of saving money right away. Run an experiment, and ask the kids for help. Put together a small, sample grocery list, and tally those items at each of the stores in your area. Repeat the process with a second list of things you normally serve. Don't be surprised to see one of the grocery stores consistently offering lower prices than the competitors on the foods you already love.
Buy ingredients instead of prepared meals.
Do your children love Lunchables? You'll save over time by buying a few mini cookie cutters, crackers, cheese and deli meats used to make easy-to-organize meals on your own. They can also be made ahead of time, providing you with a convenient, time-saving and tasty meals at a big savings over the boxed variety. Plus, you may find you're able to find healthier add-ons.
Question before you buy foods in bulk.
Because of warehouse store shopping, consumers adopted the attitude that buying in bulk was good for your bank account. Retailers are sneaky, and in some cases, they've used this assumption to boost unit cost. Before you buy the family pack in order to save extra money, check and compare prices. According to Forbes, you may be surprised to find it's sometimes cheaper—and more convenient–to buy individual packs.
Avoid buying non-food items at the supermarket.
Shampoo, toothpaste, toilet paper and other personal care items almost always carry a premium price at the grocery store. Buy them instead at big box retailers or dollar centers, and leave grocery store stops exclusively for food shopping.
We hope these tips on cutting grocery costs will help you stretch your budget farther than ever before. However, if you run into the need for a tighter budget, Title Tree is always here to help you.
Click this link to locate your nearest Title Tree store and visit us today for more tips on how to save money at the grocery store—or if you need a little help making ends meet right about now.