Anyone who eats food can benefit with learning additional ways to save money buying groceries.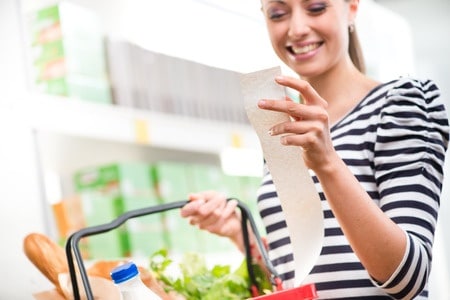 Everyone must eat. So, figuring out how to save money buying groceries is a surefire way to put extra money in your pocket. One of the easiest ways to save money on groceries is to eat less. However, that can lead to a miserable life that can be unhealthy if taken to an extreme.
Another option is to buy really, really cheap food, like ramen. Assuming you can stand eating that stuff all the time, it's not the healthiest food choice and will arguably take years off your life. So here are a few things you can try to save money at the grocery store, but still allow you to buy items that you enjoy eating and are at least healthier than ramen.
Make a Shopping List and Keep To It
Make sure you don't have to make a repeat trip to the grocery store later in the day. Take a list with you to buy everything you need on that one trip. An added advantage of a shopping list is that you can avoid the temptation to buy items you don't really need. These impulse purchases can easily blow your grocery budget if you're not careful. By having a list, it makes it harder to justify the spontaneous purchase.
Use Coupons
This is an obvious one, but can get pretty involved. Perhaps you've seen or heard of a few "extreme" couponers out there. No, their stories are not impossible. You really can save that much money with coupons. The problem is that it takes a lot of time and effort to get those types of savings. For examples, extreme couponers will find ways to get multiple copies of coupons, such as through friends and family, buying them and dumpster diving.
Without resorting to extreme methods, you can still use coupons and save a lot of money. There are manufacturer's coupons you can find in newspapers, circulars and magazines. Then there are websites online that provide them for free. There are even many coupons you can only get at the store, such as peelies. These are coupons that are stuck to the item itself and peel off. There are also catalinas. They get printed out with your receipt when you check out and are usable on your next purchase.
Finally, there are stores that have special coupon policies. Some accept coupons from their competitors and double coupons up to a certain value. And don't forget, using a coupon when a product is on sale can sometimes mean you get the item for free!
Avoid Buying Non-Food Items
Grocery stores specialize in selling food items. But they also sell other things, such as movies, toiletries, seasonal decorations, baby supplies, cooking tools and pet supplies. Generally speaking, buying these non-food items are going to be more expensive than buying them from a big box or warehouse store, such as Sam's or Wal-Mart.
Buy Generic to Save Money Buying Groceries
Buying general items over brand name will save you a lot of money, pure and simple. Most of the time, the generic product will taste exactly the same as the name brand item. Although, there are exceptions. But many shoppers will actually prefer the taste of the generic food items over brand name ones. And in some cases, generic food comes from the exact same facility and use the same ingredients, as the brand name product.
Be Careful with Eye-Level Food Items
Food that get placed on shelves at eye-level are more likely for shoppers to pick them up than items near the floor or at the time of the shelf. This often means they're more expensive. If you find the item you're looking for at eye-level, look near the top and bottom of the shelf and see if you can find a suitable substitute for a lower price.
You Can Still Get the Deal with a Rain Check
When shoppers take advantage of a particularly good promotion, the items are bound to sell out. When that happens when you try to buy them, don't despair. Most grocery stores will offer a rain check on the item. That allows you to buy the product at the promotional price when new inventory arrives.
It can take time and practice to learn how to save money buying groceries. If you need a bit of wiggle room, a title pawn can help. Call or visit your nearest Title Tree store to find out whether you qualify.