It's almost the holiday season, so find out how to save money Christmas shopping.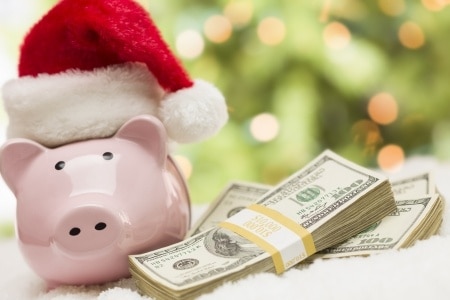 Christmas is the time of the year when individuals spend the most money, so it's always good to learn how to save money Christmas shopping. The following tips will help you buy the items on your list without having to pay any more than absolutely necessary.
Shop Online
For many items people want for Christmas, the Internet is still the cheapest place to buy gifts. It's also super convenient in that it can take place in the comfort of your own home or office. This can save a lot of time and gas by avoiding going from store to store to find all the gifts on your list. And don't worry too much about missing in-store, Black Friday door busters – many of them are available online.
Avoid Paying for Shipping
One of the biggest drawbacks to shopping online is paying for shipping costs. Many online retailers offer free shipping for purchases of a certain size or during certain promotional time periods. But what if your order isn't large enough, you missed that free shipping offer or you don't want to pay for something like Amazon Prime? You may still be in luck. In the middle of December (December 15, in 2017), a promotion-based holiday called Free Shipping Day allows online shoppers to purchased their items with no shipping cost, yet still make sure their gifts arrive by Christmas Eve.
Buy Gift Cards at a Discount
Gift cards make great gifts for those on your list that you don't know what exactly to buy or you don't need to find a sentimental gift for. But you can save money by paying less than face value for the gift cards. Online sites like eBay and Gift Card Granny allow customers to buy gift cards for less than face value.
Wait Until the Last Minute
Many stores will have last minute sales just a day or two before Christmas to get the last few shoppers in their stores for a just one or two more gifts. Of course, this requires you to wait until the last minute and the sales may not be for items on your list, but if you have some flexibility in when you give a holiday gift and what kind of gift it is, waiting until the last minute can save you a few bucks.
Track Prices
Certain sites, such as Shoptagr, will allow users to track prices or receive notification of when a price for a given item drops. This is great for those who have a few weeks or months to buy an item and want to purchase it at the exact time when its prices the lowest.
Use Coupons
Coupons aren't quite as common for items that most people want for Christmas gifts, but they do exist. If you can't find a coupon for a specific item, you can probably find one that provides a discount at a particular store, such as $5 off a purchase of $25 or more.
Use a Credit Card that Gives Rewards
Most people use credit cards to shop, both online and offline. Most credit card companies offer rewards to entice people to use their card. The typical consumer can expect anywhere from 1% to 5% cash back on eligible purchases. Just be careful to pay the credit card bill in full at the end of the billing cycle. Otherwise, the fees and interest will wipe out any cash back savings you received with your purchase.
Go Christmas Shopping After Christmas
For those who really like to plan ahead, one of the best ways to save money Christmas shopping is to do it after Christmas. Wrapping paper, Christmas decorations, Christmas themed gifts and other items are on sale at rock bottom prices. Assuming you're not buying any perishables, you can stock on these Christmas items almost one year in advance and save a bundle.
Even if you're working on how to save money Christmas shopping, you may need a title pawn to help you in the meantime. Come on in to Title Tree, and we can help you get the cash you need.