Discover how to save money cooking at home every night.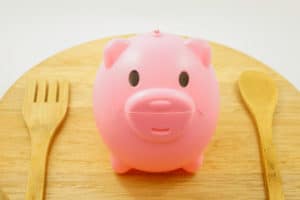 Learn how to save money cooking at home, and your food budget will always go further than before. All it takes is adequate preparation and a small adjustment of your expectations. Take those steps, and you'll quickly see how cheap and convenient it is to avoid restaurants and make food at home.
Assess Your Favorite Restaurants
Most Americans are fans of fast food, but those who aren't often eat out too. Whether you drive through or sit down for a meal outside your home, you're trading that experience for a whole lot of cash, especially if you have a large family. Grabbing burgers on the way home from the store or a hot coffee on the way to work might become a habit, and then you're really in for a financial waste.
Before you buy your next meal, ask yourself what's drawing you to the restaurant. Is it the feeling of having a special treat? Are you avoiding the work of making your food at home? Do you simply like the taste? There's nothing wrong with splurging once in a while, but if you can spoil yourself by making your favorite burger at home, you'll be able to save in many ways, not just financially.
Create a Menu Plan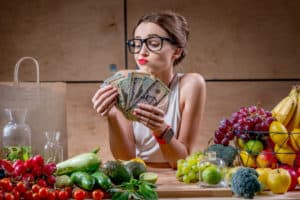 Some of the meals you eat at home will be tastier or more decadent than others. If you eat richly at every meal, your stomach will feel heavier and your wallet will feel lighter. It's important to make those meals special occasions. Create new habits by cooking your special entrees at the end of the week when the whole family is together or after a particularly difficult day of work.
Otherwise, aim for simple taste, easy cooking and convenience. Oatmeal is a fast breakfast selection you can pair with many different additions to switch up the taste. Brown sugar, apples, raisins, and a variety of nuts and seeds pair nicely with the grain.  Pieces of fruit served with yogurt and all kinds of egg dishes are also affordable morning meals you can make in just a few minutes.
A simple plowman's lunch
A bit of cheese, a roll or wedge of bread, leafy greens or a piece of fruit, and a slab of meat or hard-boiled egg – is hearty, healthy and very quick meal you can modify daily to keep your interest. This is where preparation comes in. Make hard-boiled eggs by the dozen. Bake several loaves of bread at once.  You can even make yogurt in batches for ultra-savings.
Fix it and forget it!
A crockpot is your best option for healthy, fast and affordable dinners. Throw a handful of ingredients on low heat when you head out to work in the morning and come home to a gourmet-style meal ready to put straight on the plate.
Water, please
Water is one of the cheapest beverages available, and it's easy to dress up with a variety of flavor products, including coffee, tea or aging fruit pieces. Sugary drinks might lead to weight gain and budget drain, so cutting them out of your purchases makes a lot of sense.
The snack attack
When it comes to snacks, something as simple as frozen fruit will add a tasty treat to your menu without padding on pounds or draining your bank account. Need a more traditional alternative? Break large-size candy bars into bite-sized pieces you can spread out through the week.
Buying With Budget in Mind
It seems counterintuitive to spend the money to have your groceries delivered. However, it's one of the top ways to save while cooking from home. According to the Marketing Science Institute, 70 percent of grocery purchases are spontaneous. They're items we don't want or need, and often, do not eat. Americans are throwing out more groceries than ever before, with little concern for the impact on the budget or the environment.  Ordering your groceries online and having them delivered straight to your door avoids those excessive purchases. It also ensures more of your food budget goes in your mouth. 
It can take time and practice to learn to save money cooking at home. If you need a bit of wiggle room, a title pawn can help. Call or visit your nearest Title Tree store to find out whether you qualify.