Learn how to save money couponing without losing your mind.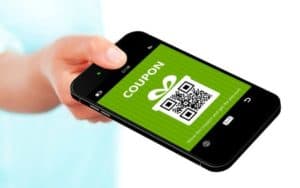 Discover how to save money couponing without driving yourself crazy. Make no mistake, it is a daunting task. Paper coupons, digital coupons, emailed codes, QRC scanning savings, and more, make for an overwhelming number of ways to squeeze every penny out of your purchases. How can you make sense of them all? Title Tree is here to help. Using the tools available to today's savviest shoppers, you'll be saving like a pro in no time. Let us show you how!
How to Waste Money with Coupons
Regardless of the type of coupons or rebates you prefer, it's easy to waste money by using them to buy items you'll never use. Finding a good deal is exciting, but, remember, it's a waste unless you use it. According to Public Radio International, 40 percent of the grocery store purchases we make wind up in the trash. Avoid the waste at the beginning of your coupon journey by refusing to go outside your list of pre-approved brands and items.
Ex-Lax prices extra low? Resist the urge to fill your pantry by reminding yourself of all the people who may really need the relief. (Can you imagine rushing to the store for that product and finding all the aisles empty?) Sushi on sale but you're allergic to shellfish? Make a concentrated effort to skip the deal for practical reasons. Once you've established this smart shopping habit, it will make skipping big price cuts much easier in the future.
Paper Coupons
While paper coupons are falling out of favor, there are three types still in circulation today:
Store-specific coupons
Manufacturer coupons
Printable coupons
Store-specific coupons and manufacturer coupons are available in the Sunday or Wednesday edition of the local newspaper. Certain coupon publishers also send them direct to your door, and of course, there are people who sell clipped coupons. Clipping coupons from mailers or the newspaper can be tedious, annoying and overwhelming, so this may not be the best choice for those who are just getting started.
Printable coupons, however, are easy to select and print off, just as you're heading to the store. You will find them at sites like Coupons.com.
Digital Coupons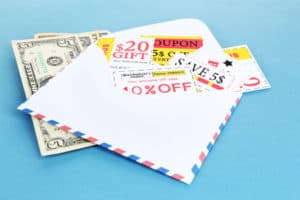 There are an endless number of sources for digital coupons. You get these via email, pop-ups, mobile apps, instant messages, text, over social media and even in direct mail. You can use them online while shopping over the internet or scan them at the register once in the store.
An excellent feature of digital coupons is the ability to store them online at sites where you can search for specific offers. Want a pizza? Be sure to search for "Little Caesar's coupons" before you complete your online order. There's a good chance you'll find a code for a percentage off.
The Rebate Revolution
Go even further with your digital coupons by using rebate sites like Ebates.com and rebate apps like Ibotta and Checkout51. Ebates offers online users a browsing taskbar that provides instant alerts whenever there are coupons available at a site you're visiting. Automating your couponing in these simple ways makes saving easier than ever before.
Mobile apps like Ibotta operate a bit differently. After your purchase, scan your receipts. Eligible purchases result in cash back, from a few cents to a few dollars. These rebates can be combined with other offers, allowing you to earn money by making qualified purchases bundled with other sales offers.
It can take time and practice to learn how to save money couponing. If you need a bit of wiggle room, a title pawn can help. Call or visit your nearest Title Tree store to find out whether you qualify.