Learn how to save money eating out and enjoy your favorite restaurants on a budget.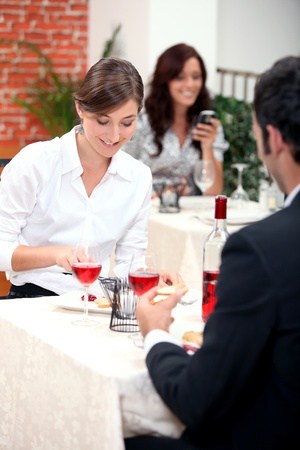 For most people, the solution to the age-old question of how to save money eating out is to simply cut back on meals out. Believe it or not, it is possible to keep restaurant spending to a minimum without ditching your favorite dining establishments. Keep reading to learn more.
Order Soups, Salads and Appetizers
The average restaurant serves far more food in a single entree than is healthy. Many meals total well over 1,000 calories, and that's not counting the bread basket or extra sides. Combine healthy eating and healthy budgeting in one restaurant visit by ordering soup, salad or a small appetizer instead of your usual entree. These items rarely cost over $15, even at fancy restaurants.
Split Entrees
If you insist on eating an entree but still lack the appetite or money for a full meal, consider splitting your meal with a friend or spouse. Keep in mind, however, that many restaurants will charge a splitting fee or add a fee for bringing out an empty plate.
Order Water
Small savings add up over time, so ditch the soda and drink water instead. For two adults, drinking water translates to at least $6 in savings per restaurant visit. Many restaurants will happily supplement your free water with a lime or lemon to add flavor.
Box Up Leftovers
Far too many people let perfectly good food go to waste by failing to bring home their leftovers. Given the portion sizes at some restaurants, it's possible to go home with enough food for a whole other meal. This tactic might not save you money at the restaurant, but it could save you the cost of an additional meal later. Be wary of this approach, however; many people waste money ordering more food than they would otherwise, all in the guise of bringing home leftovers. Order as much as you intend to eat right now, and if there happens to be leftovers, box them up and take them home.
Visit During Lunch, Late at Night or Happy Hour
The worst time to eat out (for your budget, at least) is between 5 pm and 8 pm. Arrive just a bit earlier or later, and you could receive significant discounts on your appetizer, drinks or even entrees. Lunch is also a great time to eat out; most restaurants have special lunch deals on weekdays.
Join Savers Programs
A surprising number of fancy restaurants and chains have developed customer appreciation and saving programs, in which those who spend a certain amount earn points or coupons for future purchases. If you have a favorite restaurant that you attend frequently, ask a server if there are any savings programs, or search for yourself online.
Try Mystery Shopping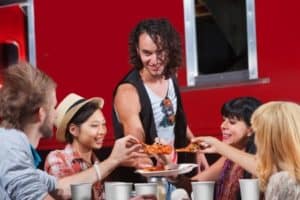 If you love saving money on restaurant visits, you'll really love eating out for free! Mystery shopping programs often compensate participants for restaurant visits, with some reimbursing evaluators and their guests up to $70. Others, in addition to reimbursing up to a certain amount, actually pay shoppers for their time.
Fine dining and thriftiness may not go hand in hand, but they are compatible if you employ the right tactics. Change up your dining habits, and you can continue to eat at your favorite restaurants while also setting aside money for other priorities in life.
Visit your nearest Title Tree store for more tips on spending less – or if you need a little help making ends meet right about now.