Wondering how to save money fast on a low income? Keep the following tips in mind.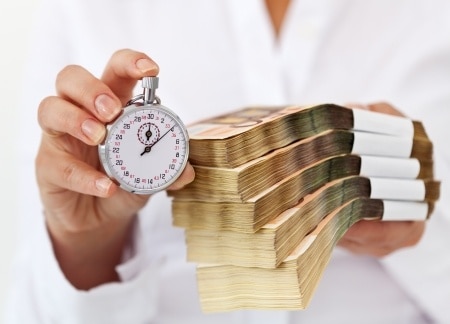 Learning how to save money fast on a low income isn't going to be easy, but there are certain things you can do to increase your savings account balance as quickly as possible.
Find an Additional Source of Income
Using your spare time for side jobs can produce extra cash to save. Perhaps it's driving through Uber or Lyft, selling crafts on Etsy, doing chores on TaskRabbit or taking on freelance writing gigs. Either way, there is a plethora of possibilities. You just have to find what you have to offer the online marketplace and be willing to do the work.
Sign Up for Online Rewards Sites
A number of online companies, such as EarnHoney and Swagbucks, make money by getting individuals to complete certain tasks for points. Individuals may then exchange these points for cash or gift cards. Tasks can include taking surveys, watching videos and playing games. It won't replace your day job, but it can result in a few extra dollars each week. If you're especially savvy and careful, you'll be able to pay for your family's birthday and holiday gifts for the entire year.
Establish an Automatic Savings Deposit
One reason it's hard to save money is that it's easy to spend any extra money without even realizing it. To avoid wasting all your monthly discretionary income, contact your bank to automatically have a certain amount of money transferred from your checking account to your savings account each month.
Make Sacrifices
It's not easy to stop doing things you enjoy, but it will save money. Identifying the exact sacrifices available will depend on your current expenses. Examples of things to stop doing (or at least significantly reduce) include:
Your cable or satellite package

Eating out

Shopping for things you want, but don't need

Your mobile phone package

Going out to the movies
Stop Paying for Convenience
It's nice to buy cheese already sliced or shredded, fruit that's pre-cut, a salad that's pre-washed or coffee that you get from a drive-through, but those things are expensive because you're paying for convenience. If you have extra free time, you can save a lot of money preparing and doing these things yourself.
Get Rid of Things You Don't Need
If you have a high dollar item you don't use or need, sell it. Try eBay, Craigslist or other selling apps to turn your idle belongings into cash. Even things that aren't worth much can transform into savings. Donate them to a local church or thrift store and use that donation as a tax deduction.
Don't Be Afraid to Buy Used
When you have to buy things, go to yard sales, rummage sales and thrift stores. You can obtain necessities at a fraction of the cost of buying them new. Good examples include books, DVDs, baby clothes, furniture, gardening supplies and kitchen tools.
Examine Your Monthly Bills
How much are you spending on utilities or insurance? If you raised your insurance deductible or cut back on how much electricity or water you used, you might enjoy seeing how much of savings you can build up. Those car insurance commercials aren't exaggerating when they say a simple phone call can save a few hundred dollars a year on car insurance.
Consider Selling Your Car
If you have two cars or live in an area with great public transportation, it may pay off to sell your car. Not only will it create a lump sum of cash that you can immediately place into savings, but you'll save a significant amount of money by not purchasing car insurance or gas.
Use Coupons
Coupons are a great way to save a notable amount of money relatively quickly and easily. You can find coupons in newspapers, online or on the actual item in the store (referred to as "peelies"). And pay attention to stores' coupon policies. Many grocery stores have a policy of doubling manufacturers' coupons for extra savings
It can take time and practice to learn how to save money fast on a low income. If you need a bit of wiggle room, a title pawn can help. Call or visit your nearest Title Tree store to find out whether you qualify.