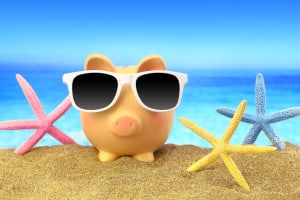 If you're just deciding now to make room in the budget for a summer vacation, you'll have to save money fast. Learn the tricks to skimming the fat off your bills to make room for having fun. Anyone can start putting money away today, for vacations or for emergency expenses.
Follow these tips to save money fast and have a summer vacation you'll always remember:
Practice practical couponing. Trying to learn the art of extreme couponing overnight is overwhelming. You run a good chance of stocking up on tons of items you don't need and going broke in the process. Instead, make sure you're using coupons on things you'll really buy. Make out a grocery list, and then hit the coupons.
Try CouponMom.com for a list of grocery deals in your area. The site matches items on sale in specific stores with available manufacturer coupons and app rebates. You'll also see items rated by the percentage you save. Just be sure not to delve into freebies which often require the use of advanced couponing techniques.
Put your cable or cell phone service on-hold. Nothing cuts into your ability to save for vacations more than those pesky contract payments for cable, cell phones and similar extras. Most people think they have to pay them, no matter what. Fortunately, most services are capable of being put on-hold or being temporarily suspended.
Most often this is used by people who are out of the country or out of the service area for an extended period, but it can be used in other situations as well. Just be sure to specify you want your service suspended without billing. This allows you to skip paying these bills while they're on hold. The length of your contract is then adjusted to make up for the months you weren't an active customer.
Commit to eating at home. One money saving idea is to use a four step approach to cutting your food bills—and eat healthier—by putting these steps into action:
Plan your meals in advance. Make sure the meals you include are easy to make, tasty and don't require any new equipment, just in case you don't get around to buying it.
Use a delivery service to take care of grocery shopping once a week. This way, you never have to worry that you won't feel like going to the store or running out of food to eat.
Have plenty of snacks on hand. Always have foods that require no prep at all for those nights where any amount of cooking feels like too much. Slices of cheese, clean fruit, crackers or yogurt are all good choices for a no-cook night.
Rely on recipes that are easy to cook and easy to clean up after. Crockpot cooking, casseroles and other one-dish meals are perfect for staying on track, as are any foods you can stretch into more than one meal.
Save in advance on travel expenses. There are many sites where you can find and compare the lowest prices on travel of all kinds. If deals come up before you have your savings in order, you can always use a short-term loan to take advantage of the ultra-low cost. By being prepared to strike when the iron's hot, you can save thousands. Just make sure to thoroughly check out the travel service provider and the fine print. Deals that are too good to be true rarely are.
Visit your nearest Title Tree store for more tips on spending less and how to save money – or if you need a little help making ends meet right about now.