Looking for ideas on how to save money going out to eat? Take a look at these tricks.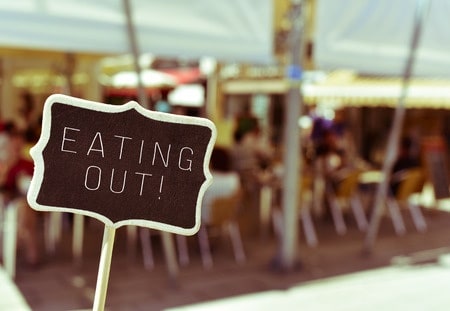 Figuring out how to save money going out to eat can sometimes take a bit of time, but the results are definitely worth the effort. Here's how to have your cake and eat it too.
Sign up for Restaurant Loyalty Programs
Many restaurants, from chains to independent establishments, will reward customers for being repeat customers. Sometimes it's building up points for every dollar you spend at the restaurant, which are redeemable for a discounted meal in the future, or getting eight holes punched in your club card for a free pizza or appetizer. Either way, these programs exist, really do work and can help lead to free meals and other great culinary benefits.
Avoid Restaurants with Servers
One reason going out to eat costs so much is because the restaurant has costs that you don't, should you decide to cook at home. One such cost is the wait staff. If you choose a restaurant where you serve yourself, such as the typical fast food restaurant or buffet, you will spend less on your meal.
Don't Go Out Hungry
Before leaving for a meal outside the home, have a snack. Sounds a bit counterintuitive since the whole reason for eating out is to satisfy your hunger, but by eating a snack before leaving home, you will be less hungry at the restaurant. In turn, you will be more likely to order less food, saving money. So instead of the appetizer, large main course and dessert, you agree to share an appetizer, get a smaller main course, then skip the dessert. You get to feel satisfied without paying extra money.
If you really must gorge yourself when eating out, aim for all-you-can-eat deals, whether it's a buffet or unlimited-soup-and-bread combo meals. Here, you can eat to your heart (and stomach's) content, without breaking the bank. Just be sure you really will eat a lot of food. These types of meals are more expensive, so you'll need to eat a lot to get your money's worth.
Drink Water with your Meal
Most restaurants have huge profit margins on their drinks, especially alcohol. You can save a lot on your restaurant bill by ordering water to drink instead of soda, juice or that cocktail. If you must have your alcoholic beverage during your meal, choose a BYOB restaurant and save a few bucks by serving your own alcohol.
Order the Lunch Portion
Even if you're getting dinner out, see if you can order the lunch portion of your entrée. The portions are smaller and cheaper. This is particularly applicable to individuals who rarely clean their plate. One exception to this strategy is if you can share your meal. In that case, order the larger portion, then share it with your meal companion and save even more money.
Consider Happy Hour or Brunch
Those few hours before the main dinner or lunch rush often have specials on drinks, appetizers and main dishes. If you have some flexibility in what time you eat out, choose a time between the main meals of a given restaurant and reap the extra savings without compromising what you can eat.
Use Coupons or Special Deals Found Online
Yes, coupons exist for restaurants, not just grocery stores. And then there are daily deal sites online, which have discounts and special offers for specific restaurants. One possible catch is in the fine print, such as minimum order amounts or limits on when the restaurant will accept the offer.
Purchase Restaurant Gift Cards Online for a Discount
There are a variety of online sites that sell, or help others sell, gift cards for less than face value. If you're planning on eating at a particular restaurant and you have a few days notice, see if you can score a gift card online and save a few dollars. Don't expect to get 50% off, but 5% to 20% off the gift card's face value is certainly possible.
It can take time and practice to learn how to save money going out to eat. If you need a bit of wiggle room, a title pawn can help. Call or visit your nearest Title Tree store to find out whether you qualify.