There are plenty of ways to learn how to save money having a baby.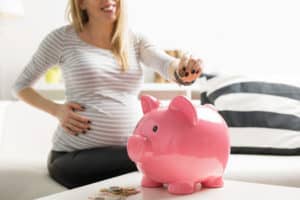 Becoming a new parent is an exciting time, but many potential new parents worry about how to save money having a baby. Luckily, there are a variety of tips and tricks that can result in serious cost savings.
Tip #1: Try Generic Products
You've heard it before: buy generic over name brands to save money. And nowhere is this truer than with baby products, like diapers, food, and supplies As long as the product meets your specifications, your baby literally cannot tell the difference between generic and name brand products, so why should you? In many cases, you may find yourself or your baby liking the generic version of a pureed food or diapers more than the name brand.
Tip #2: It's Okay to Skimp at the Hospital
A private hospital room and unlimited television are nice after giving birth, but is it really worth an extra few hundred dollars each day? For the vast majority of new mothers, the answer is no. In most situations, new mothers and fathers will take every moment they can to get as much sleep as possible and spend time with their new little one. Television show and movie marathons can wait until you get home if they're that important.
Tip #3: Take Full Advantage of the Free Samples and Coupons
New parents are prime targets for businesses that sell baby products. Businesses understand that once a parent becomes a loyal customer, it can lead to thousands of dollars in potential sales for years to come. That's why companies that sell baby food and formula give away so much in free samples at doctor's offices and will mail generous rebate checks and samples to prospective customers. Whether or not you believe in the ethics of marketing, you can still take advantage of these free samples and save a little bit of money on items you would otherwise have to buy.
Tip #4: Breastfeed
Not only is breastfeeding wonderful for a newborn, but it can save a lot of money on infant formula. Estimates put the savings at over a $1,000 in the first year alone.
Tip #5: Borrow the Breast Pump, Buy the Attachments
New mothers wanting to provide breast milk to their child, but can't always manage to breastfeed look to pump breast milk. Unfortunately, breast pumps cost a lot of money, easily in the hundreds of dollars. For some, health insurance will help cover the cost of the pump and related supplies, but for those aren't as fortunate, they must buy the pump out-of-pocket. To help reduce the financial burden, look to borrow a pump from a friend or family member, then buy the attachments brand new. Another option is to buy the breast pump used but only use new attachments.
Tip #6: Buy Used Baby Clothes
Baby clothes, especially for newborns, are extremely cheap at yard sales and thrift stores. It's completely reasonable to buy a complete wardrobe for an infant that will last them for the infant's first six months for less than $20. And there's little to worry about the clothes being in bad shape. Most newborn clothing, even when used, will be in fantastic shape because babies grow so fast. In many situations, you'll be buying a used onesie that was only worn twice before someone sold or donated it.
Tip #7: Buy a Convertible Crib and Car Seat
Today, it's very common for car seats and cribs to work not just for newborns, but for toddlers and young children, too. For example, a rear-facing child safety seat can rotate into a forward-facing toddler car seat, then transform into a booster seat in a few years. So parents only need to buy one car seat that can easily last four or more years. This same concept applies to cribs, which can convert into a toddler bed.
Tip #8: Buy in Bulk to Save Money Having a Baby
Many baby supplies, such as wipes, diapers, and formula, are much cheaper in bulk. If you're worried about your child outgrowing a certain sized diaper or type of formula, most stores will allow you to get a refund or at least store credit for unopened boxes or containers as long as they have not gone past their expiration date and go back to the store within a reasonable amount of time after purchase.
It can take time and practice to learn how to save money having a baby. If you need a bit of wiggle room, a title pawn can help. Call or visit your nearest Title Tree store to find out whether you qualify.