Learn how to save money heating your home without going cold.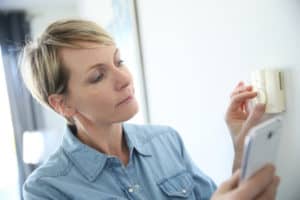 Discover how to save money heating your home through the coldest weather of the year. This article offers tips for every budget, so don't feel intimidated if a few of these don't apply to you. Whether changing your heating and cooling equipment or simply learning how to use the model you have in a more efficient way, we have the advice for anyone to lower their monthly utility bills.
How to Save Money Through Regular HVAC Maintenance
According to The Washington Post, dirty air filters can cost you hundreds each year in extra heating costs, while using the wrong type of filter can take years off the life of your HVAC system. The most affordable filters today cost between $10 and $15. You can tell them apart from cheap, low-quality filters by their pleated design and their minimum efficiency reporting value (MERV) rating, which should be seven or higher.
The recommended schedule calls for filter changes every three months. This is to prevent built up dirt and debris from clogging the filter and creating resistance. Depending on the conditions in your home, however, the furnace filter might need changing as frequently as once a month. A visual inspection should clue you in to whether it is too dirty or not.
Scheduling a yearly system cleaning and adjustment will help your efficiency rates as well. Joining a company's maintenance plan will lower the cost of these visits and can provide lucrative fringe benefits, like money off replacements and repairs and prioritized service.
Save Money on Heating by Hacking Your Thermostat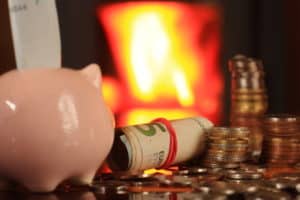 Many thermostats today come with programmable features. These allow you to set the temperature lower or higher depending upon when you're at home. The problem is only 10 percent of homeowners put them to use. Instead, they rely on habits to regulate temperature. Everyone forgets at some point, and those hours of needless home heating have a big impact your budget.  
Automate savings by learning how to use your thermostat's programmable features. For those that no longer have an owner's manual, many full manuals are now available online. You can also contact your thermostat's manufacturer and request programming instructions.
Learn how to adjust the temperature in your home by three or four degrees once the people living there go to work or school for the day. Adjust it again after everyone goes to bed. Not only will you save energy at night while you sleep, but research shows most people sleep better when temperatures go down.
There is one caveat: you will waste energy if you turn your thermostat down too low. The extra energy needed to bring it back up to normal temperatures will negate your savings if you're gone less than a week. Then there is the risk of pipes freezing should you set your temperature lower than 55 degrees Fahrenheit.
Alternatively, you can look into new, improved thermostats with Wi-Fi capabilities you can adjust from anywhere with internet access. These systems can be as simple or robust as you like. The best of the best predict your heating and cooling needs based on weather conditions and your normal habits, as well as monitor the home to automatically turn the temperature down when people leave.
Heat Your Home for Less with Upgraded Equipment
Geothermal is one of the most efficient heating and cooling systems available. These setups use underground temperatures to regulate the climate in your home. They can also heat your water for very little cost. Initial purchase prices are hefty, but thankfully a number of grants are available to help shoulder those costs.
If a geothermal unit is out of your price range, simply switching out your old equipment is a sensible consideration for those with HVAC systems 15 years or older. Even today's baseline models offer huge improvements over those installed in the mid-2000s and earlier.
Even if you're working to save money heating your home, you may need a title pawn to help you in the meantime. Come on in to Title Tree, and we can help you get the cash you need.