Do you know how to save money holiday shopping on Black Friday? We've got your last-minute tips.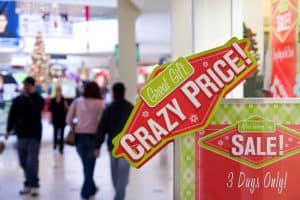 Learning how to save money holiday shopping on Black Friday is easier than it was even ten years ago. The hectic nature of Black Friday has led some people to avoid the crowds and chaos and stay home. And if you do decide to brave the hustle and bustle, it's not always easy to get up in the wee hours the day after Thanksgiving to score big deals. The good news is you don't have to miss out on savings. Black Friday is still an excellent time to do your holiday shopping, but where, when and how you get the best prices has changed. Take a look.  
Save Money on Accessories and Bundled Holiday Deals
For those heading out into the thick of it, brick and mortar retailers select a handful of popular products and slash their prices for a limited time. These super bargains attract customers who will buy other gift items while they're out shopping. Stores know most people take advantage of the convenience of shopping in one place for accessories and other gift items. Keep this in mind and enjoy immediate savings by shopping for accessories where they cost the least. If you're buying in bulk, it makes it worth the trip.
Another trick retailers use on Black Friday is bundling items together to make them less expensive than if you purchase each component separately. This also makes your purchase extra convenient, but it doesn't always result in much savings. Be sure to price everything on its own to see if you're really getting a good deal.
It's also common for stores to have deals on-site that they aren't advertising in the paper. More often than not, these specials are marketing tricks to make you think you're saving money when you're not. Be sure to stop and check prices before you make a spontaneous purchase.
Save Money on Black Friday Shopping by Using a List
One of the biggest money saving tactics you can use is to make a list and stick to it. Using a shopping list helps you save whether you're getting groceries or a new car, but it can be especially helpful when you're shopping Black Friday deals. How? There are surprise deals everywhere.
What happens when you run into two toys your child would love, and they're both at extra-low prices? It's really easy for parents to buy both items. When you do that for one person, it's not a big deal. If you do it for everyone on your list, you quickly blow your budget.
It's also easy to start buying random gifts for people you normally wouldn't. Sure, Bob in accounting would probably love that golf-themed set of hand towels, but does it make sense for you to buy Bob a present at all?
Before you head out holiday shopping, it's important to decide who you are going to buy presents for and how many presents you will buy them. Then, list their main interests. If your nephew tells you he's into superheroes and Legos this year, it makes it easier to pass up a big bargain on astronaut gear.
Save Money by Setting a Holiday Shopping Budget
Financial experts say a conservative holiday spending budget for middle-class shoppers is 1 percent of their gross annual income. If your annual salary is $30,000, you shouldn't spend more than $300 on all of the gifts for your family and friends. Surprised by that number? You're not the only one. The average American spent more than twice the recommended percentage last year. Of course, families often combine gifts with other spending, such as a winter vacation. The important thing is to figure out how much you'll be able to repay without cutting into your essential bills.
If you're working on learning how to save money holiday shopping, an auto pawn could help. Title Tree is always here to help you get through the holidays. Call your nearest Title Tree location for help now.