Learn how to save money on a road trip before you head out!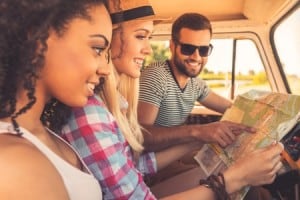 Know how to save money on a road trip? The savviest of travelers still have something to learn. Take a look at our top tips for budget travel before you take off on your next adventure.
Let these seven steps lead you to fantastic savings for your next road trip:
1. Choose Your Travel Dates Wisely
As Bankrate.com points out, you can time your trip to avoid several types of inflated hosts. Holiday weekends see major spikes in hotel and restaurant rates. The cost of gas goes up during major times of travel too, but that isn't all the money you'll lose at the pump. Busier travel times mean more waiting on the road. You don't want to blow through your budget burning gas while you sit in traffic.
2. Plan Your Route
You can save quite a bit of money by mapping out your road trip or using a GPS mobile app or device. At the same time, doing so may take away from the sense of adventure you were seeking. One remedy may be taking a different route to your destination as you use to return home. Doing a bit of pre-trip research can help you find the shortest routes to your destination – using as little gas as possible to get there. It can also help you avoid construction zones and traffic problems with the potential to waste your fuel.
3. Ready Your Home for Your Absence
Not only will avoiding a robbery save you some serious cash, but remembering to turn down the utilities will take a serious chunk out of your monthly budget. It's important to put a hold on your paper and mail delivery to avoid signs that no one is home. You can put holds on other services as well.
Speak with your internet, phone and cable providers about postponing your service until you get back. While it won't change the amount of your monthly bill, it will extend your service contract for the same length as your trip. If temperatures will be at least 55 degrees during your travels, you may consider putting a hold on your water service too.
Otherwise, set your heat four degrees cooler and your air conditioning four degrees warmer than usual. According to Angie's List, any more than that will actually use more energy to fix once you get back.
4. Put Consumer Apps to Work
Many travelers drive in order to avoid the high price of flying, but without a little help, you could wind up spending a bundle. Use apps like GasBuddy to help locate the lowest gas prices in any area or Groupon to find restaurant and entertainment deals during your travels.
5. Book Rooms Through AirBNB
Secure lodging before you leave home to avoid last-minute bookings at expensive hotels. You can find big savings through sites like Hotwire.com. You'll cut your costs even more – and often score better lodging – by using an alternative site to book short-term home rentals for your travel. AirBNB isn't the only contender. Be sure to check VRBO and Couchsurfing.com for low-cost lodging options.
6. Pack Smart Snacks Before You Go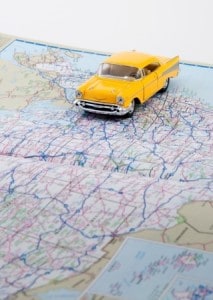 A cooler full of drinks may result in needless trips to the restroom. It also takes up valuable room in your car. Instead, stick with dried fruits, crackers, and bottled water. You'll keep your blood sugar stable between meals, and stop on schedule to have lunch and dinner. Use the cooler to pack meats, cheese and other perishables.
7. Buy Souvenirs Online
You can often find cheaper, more impressive memorabilia online than you can at any destination. From Amazon and eBay to tourist trap websites, the Internet is one of the best sources for a good buy. End each night with a shopping spree online. It's a good way to score choice souvenirs for less and to prioritize your spending.
Think you've found something special? Do a quick smartphone search using Google Images. Just click a pic, run it through the search system and you'll come up with the souvenirs official retail description. Use that to find units for sale on any shopping comparison tool. If you can't get any hits, that's a good indicator that buying on-site is best.
Even if you're working to save money on a road trip, you may need a title pawn to help you in the meantime. Before you hit the road, come on into Title Tree, and we will get you the cash you need for your big adventure.