Here are some great tips and tricks on how to save money on a wedding event.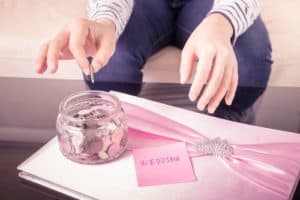 If you or a loved one is ready to begin a marriage, then you are probably looking for ways on how to save money on a wedding. The typical wedding is expensive. But there are a few tricks and strategies to make the wedding magical, yet not break the bank.
Trick #1: Schedule the Wedding for an Unpopular Time of Year
You know the rule: the more in demand something is, the more expensive it will be. This theory of economics applies to weddings. So instead of getting married at a popular time, such as the late spring, summer or early fall, have it in the winter. Venues will charge far less for these unpopular times.
Trick #2: Schedule the Wedding Early During the Week
The most popular day of the week to have a wedding is Saturday. You can probably save even more money by choosing a weekday, like a Tuesday.
Trick #3: Plan the Wedding Well in Advance
The further in advance you plan a wedding, the greater opportunity there is to take advantage of seasonal sales.
Trick #4: Plan the Wedding on Short Notice
On the flipside, if you plan the wedding quickly, you're more likely to keep things small. Also, with shorter notice, your guest list may be smaller, further cutting down on costs.
Trick #5: Look to Have a Wedding in a Nontraditional Location
Popular, in-demand wedding venues will be expensive. You can easily save thousands of dollars by having a wedding in a place that normally doesn't have one. Examples include a courthouse, park or family member's home. But keep in mind that nontraditional locations may not be able to support a wedding easily. For example, a secluded field by the woods may be a romantic and free wedding venue, but it can be extra expensive to bring in the chairs, decorations, supplies and equipment.
Trick #6: Buy the Wedding Dress on Sale
Many designers have annual sales where you can save hundreds if not thousands of dollars on a brand new wedding dress.
Trick #7: Have a Friend Take on Wedding Jobs
If you have a friend or acquaintance who DJs in their spare time or takes photos as a side job, consider hiring them for your wedding. You can probably get a special discount on their services.
Trick #8: Have the Wedding Early in the Day
If the ceremony is early in the day, this allows for the reception to be early as well. A reception that serves brunch or lunch will almost always be cheaper than one that serves dinner.
Trick #9: Don't Serve Alcohol
Alcohol is one of the single biggest wedding reception costs. You can save a bundle by skipping on the booze. If you must serve adult beverages, keep the available drink choices limited to keep costs down. This is because you pay for the alcohol once you open the bottle, even if you just take an ounce from it to make one mixed drink.
Trick #10: Have Guests RSVP with a Postcard
Instead of having guests confirm attendance by mailing a letter, have them use a postcard. We're talking cents worth of savings here, but if you have hundreds of guests, that's some super easy cash savings.
Trick #11: Hold the Reception at the Same Location as the Ceremony
Having guests attend a reception at the same venue as the ceremony can save on the cost of transportation. It can also save time, which might make it easier to serve brunch or lunch at the reception instead of dinner.
Trick #12: Keep the Menu Simple
Instead of letting guests choose between steak and seafood or chicken and beef, serve a combination plate. This keeps things simple for the chef and reduces the amount of extra food kept on hand for unexpected guests and menu changes.
Trick #13: Make Your Own
If you have the will and the patience, you can take care of a few things yourself, such as making the wedding cake or creating your own floral centerpieces. If you decide to make your own centerpieces, you can save even more money by choosing local, in-season flowers.
It can take time and practice to learn how to save money on a wedding. If you need a bit of wiggle room, a title pawn can help. Call or visit your nearest Title Tree store to find out whether you qualify.