Is it possible to save money on airfare and not get stuck with three connecting flights?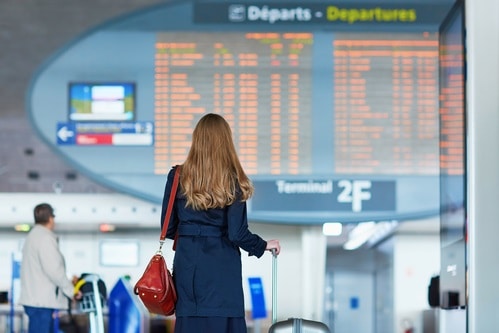 Millions of travelers seek out ways to save money on airfare every year. There has to be a way to accomplish your travel goals and not go broke. There is too much out there to see and do. Who can be content to stay home? If you are not ready to become a pilot or flight attendant in order to stay on the road, then it's time to dig into all the information out there and find ways to save a few bucks.
We're kidding! We have done the research for you. There is a lot of advice out there about finding cheap flights. Sometimes you have to do better than book with a discount airline. Those businesses might have affordable rates but their customer service is lackluster. Here are some better tips to help you save money on airfare and find the best deals.
Book ahead of time.
Multiple industry experts agree that the best time to book airline tickets is 45 to 90 days before your date of departure. Booking within this window should get you the best possible rates on your flight.
Be flexible with your travel dates.
Tuesday, Wednesday, and Saturday are usually the cheapest travel dates so try to fly on those days. If your trip happens during a holiday, check prices for flights on the holiday. You might find a great deal as many people don't want to travel on holidays. Try not to travel in March or April to avoid high spring break fares. Avoid flying in July and August to avoid astronomical summer rates. December is another expensive month to travel due to the Christmas holiday and school break.
Don't check any bags.
Most airlines now charge a fee for each checked bag. Besides, carry-on suitcases hold way more stuff than most people think. The United States Department of Transport (DOT) website offers more valuable tips on checking bags and many other travel-related topics.
Know whether your airline will refund your money if you cancel your trip
.
Discount airlines almost never refund for any reason. Major airlines will typically refund your full fare if you cancel within 24 hours of booking, with partial refunds available later than that.
Keep an eye on airfares for your trip.
If your airline drops the price of one of your flights after you booked your tickets, ask your airline to give you the price difference back. Some major airlines will do this but you have to ask.
If your travel schedule is flexible, get bumped.
That's right! If you are waiting for an overbooked flight, volunteer to take the next flight. Make sure you get a cash voucher, not a travel voucher. If you're getting bumped from a domestic flight, expect to receive a few hundred dollars. If it's an international flight, you could get over $1,000! And if you have an overnight bump, make sure the airline will provide you with a hotel room, transportation, and a meal voucher. You can also ask for other purchases such as an upgraded seat on your flight, a calling card, or a lounge pass.
Save Money on Airfare by Working with Title Tree
At Title Tree, we love to travel but we hate to waste money. Most folks can make small cuts in other areas of their budget to sock away travel money. Shopping around and seizing deals can help stretch your travel budget. Title Tree can also help you come up with more cash for your upcoming trips. If you're working on learning how to save money on airfare, an auto pawn could help. Call your nearest Title Tree location for help now.