In-home entertainment can be expensive, but you can learn how to save money on Comcast.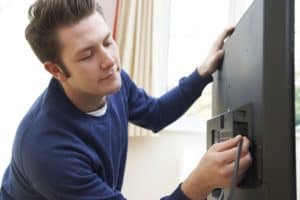 Those who enjoy watching their TV shows, sports, and movies but hate the monthly bill will wonder how to save money on Comcast. Unfortunately, there's no way to legally enjoy the services of a cable or satellite TV company for free. But here are some tips and tricks to save a few dollars or find a substitute source of in-home TV entertainment.
Identify Your Must See TV Shows
Before making changes to your cable or satellite TV bill, you'll need to figure out what types of shows you just have to watch. For example, if your favorite shows are all on network TV channels, then dropping your cable or satellite provider is probably an easy decision. But if you have a favorite sports team halfway across the country and you really enjoy being able to watch all of that team's games, then a special sports package with your local cable to satellite TV provider will probably be a necessity.
Alternative #1: Broadcast TV
Why pay for watching your local NBC, ABC, FOX, PBS and CBS stations when you can get them over the air for free? Seems like a waste of money to pay to watch free TV stations, but there are two things to consider.
First, you must live in an area where your local TV stations have a strong broadcast signal. If you're in a less populated or rural location, it may not be possible to receive the local TV station signals, or if you can, the picture quality may be awful. One possible way around this is to install a very large outdoor antenna on the roof of your house to improve your TV reception. But this takes money and effort and may still be insufficient to get a good signal.
Second, if you enjoy the benefits of a digital video recorder (DVR) with your cable to satellite company, you might lose that ability by cutting the cord. You might be able to watch TV shows on your own schedule by watching them online, but you'll probably still need to watch commercials and accept either watching TV on your computer or finding a way to hook your computer up to your TV.
Alternative #2: Buy Your TV Shows
If you enjoy just a few TV shows and don't mind waiting a day to watch them, you can buy individual episodes or entire seasons online. One advantage of this alternative is that you can avoid commercials and have access to the show or season anytime and anywhere you want. Buying a season doesn't make financial sense if you have more than one or two shows you must watch, though.
Alternative #3: Reduce Your TV Subscription
If the above alternatives aren't possible or realistic, you can consider keeping your cable or satellite provider but reducing your subscription package. Many subscriptions include hundreds of channels, but most viewers don't want or need all of them. By reducing a subscription package, some viewers can save $10 or $20 per month but still get most of their favorite channels or options. Another way to cut back is to reduce your services or features. Perhaps you give up your DVR or only have one set-top box instead of two.
Alternative #4: Negotiate a New Price and Save Money on Comcast
Satellite and cable companies usually have special promotional prices or packages for new customers. However, these prices often go up after a set period, such as one or two years. If you've been a loyal customer for several years, you've probably seen your monthly rates go up recently. Now, if you want them to go back down, think about calling your current TV provider and ask them for a new price. If they say no, threaten to find another provider. Most of the time, they will offer you some sort of discount to keep you as a loyal customer. In some instances, it will be even better than what new customers get. However, this does not always happen and if the company calls your bluff, be ready to cancel your service right then and there.
Visit your nearest Title Tree store for more tips on spending less – or if you need a little help making ends meet right about now.