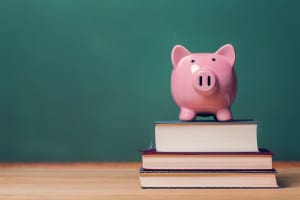 It's easy to stick to your budget while getting your degree. You just need to use the right methods to keep your budget in check. The following steps will ensure you're always spending the least for every purchase you need to make.
Spend thrifty college students prove the following tips can beef up any budget:
1. Buy Books for the Lowest Price Possible
The average student spends $1200 a year on textbooks, with single copies in college bookstores hovering near the $200 mark. That's more than 10 percent of your yearly earnings if you're working a minimum wage job. Don't roll that expense into a debt. Shop for cheaper alternatives. New copies can be found in book warehouses and online for–literally–pennies.
First things first, check out Kindle. Through Amazon's Kindle Cloud Reader, you don't need a special device in order to read ebooks in this format. You can look for ebooks in other formats as well, but Kindle is so popular that many textbooks are automatically published for the budget-conscious Amazon crowd. Some textbooks are classic texts, like Of Mice and Men. These can often be found in ebook format for free at sites like Project Gutenberg.
You can also sell your old textbooks to fund your current semester's needs. One of the best resources for textbook pricing is BookScouter.com. You enter the 10- or 13-digit ISBN code of the book you need and the condition, and this handy search engine returns the top sources and prices. You ship off your books free-of-charge and wind up getting paid once they're received and processed.
2. Seek Out Student Discounts
From public transportation to ATM fees, there are hundreds of ways to save on everyday purchases simply by asking if a service offers a student discount. Many providers have them but don't widely publicize them, so unless you ask, you may never know they exist.
Aren't sure where to ask? Student discounts are especially common at the following types of businesses:
Clothing stores, such as J. Crew, Banana Republic and Ann Taylor
Tech retailers, like Apple and Dell
Cell phone providers, like AT&T, Verizon, and Sprint
Insurance companies, like Allstate and Geico
Public institutions and services, like museums and public bus lines
Transportation, like Greyhound and Amtrak
3. Take Full Advantage of Campus Life
You're paying for your student ID card either way. Make sure you use it for all that it's worth–and more. Look at the school calendar for on-campus entertainment, visiting lectures and other free events. Attend sports games; you may find you enjoy basketball more when you have your own team to root for. Opt for movie nights with your peers vs. your paramours, and save date night money for something really special.
You can also check out school-sponsored clubs for sources of free entertainment and skill-building opportunities. Just as colleges paid attention to your extracurriculars in high school, employers will care about your hobbies and interests during the college years.
Focus your activities on employment-related responsibilities, considering your field. Finishing your BA in Forestry Services? Join the gun club and get your license. Working toward a degree in International Business? Being involved in foreign language or cultural clubs could go a long way in giving you a leg up. In the process, you'll have fun at a discount.
We hope these tips on how to stick to your budget will help you stretch your budget farther than ever before. However, if you run into the need for extra funds, Title Tree is always here to help you.
Visit your nearest Title Tree store, or call 404-410-6559, for more tips on how to save on education and stick to your budget – or if you need a little help making ends meet right about now.