What's the easiest way to save money on food? Fill up!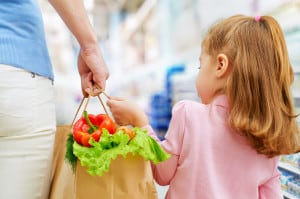 Most families are looking for ways to save money on food, but in the rush to clip coupons and take advantage of big deals, they miss the most obvious methods.
Use the following tips to trim your waist, along with your budget:
1. Eat filling foods.

Processed foods chalked full of salt and preservatives fill you up for just a few hours. They're also packed full of fat and sugar, leading to a perpetual overload of empty calories. It's no wonder poverty and obesity go hand in hand. The cheapest foods available in the convenience aisle are designed to pack on the pounds. Turn this trend around in your home by focusing on healthy foods that keep you full for longer stretches of time.
Oatmeal provides an excellent start to your day. It's rich in fiber, fast and easy to make, and you can switch it up often by serving it with different toppings, like nuts, berries and banana slices. Fatty fish like salmon makes for a satisfying lunch, especially served in a whole wheat wrap with spinach. Other filling foods include: potatoes, beans, broccoli, apples, Greek yogurt, broth-based soups and milk fortified with vitamin-D.
2. Drink more water.
Americans are known for portion sizes that astonish the rest of the world, but somehow—even knowing this—it's easy to feel hungry when enjoying smaller portions. Thirst may be the culprit behind the problem. With the shocking amounts of sodium in processed foods, it's no wonder our bodies are clamoring for more water. In order to save a huge amount of money on food, it's essential to first change eating habits. Making sure you drink enough water is very helpful in that task.
How much water do we really need? Many people need more than the allotted eight glasses a day. A good rule of thumb is .35 fluid ounces per pound of weight for sedentary people, and .5 fluid ounces for those who are active or breastfeeding. Women who are active and nursing should consume a bit more.
3. Eat meatless more often.
Beans and potatoes are two very affordable meat alternatives. From bean and salsa tacos to braised potatoes with leeks and garlic, they can both step in as the main course more often than we give them credit. They're filling too, so you won't find yourself in need of enough to make seconds (or thirds). Some of the tastiest meatless main dishes include potato and broccoli casserole, potatoes au gratin, bean and cheese enchiladas, and vegetarian chili and lentil soup.
4. Use a crockpot to put tough, cheap meat to good use.
Crockpots utilize slow cooking methods that infuse meat with flavor and cook it thoroughly. It's also well-known for making tough meats so tender they literally fall of the bone. When you do need to use meat in a recipe, go for the cheapest, toughest cuts and prepare them beforehand by cooking them on low all day in your crockpot.
5. Take advantage of drugstore promotions.
CVS and Walgreens can be found throughout Georgia, and they have reward programs that many patrons miss out on. Yes, the food selections here aren't very inspiring, but that changes once you start to look at specials. Using the stores reward cards, you can save quite a lot. You also rank up free dollars to spend at the end of each quarter or month. Pairing these promotions with manufacturer coupons can lead to free or very affordable snack and convenience food purchases. It doesn't provide the same savings you get from extreme couponing, but it's a start.
We hope these tips on how to save money on food will help you stretch your budget farther than ever before. Extreme couponing can help, but it takes an investment to get started. If you're committed to trying but don't have the extra money needed to start, an auto pawn could help. Call your nearest Title Tree location for help.