Top ways to save money gardening. Grow your way to physical and financial health.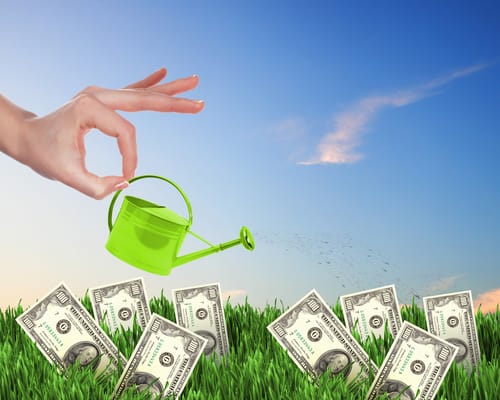 Take frugal living to the next level when you learn to save money on gardening. You'll cut your costs in more ways than one. Eating fresh foods will reduce your grocery costs, but you'll save money by being healthier too. In fact, people with diets rich in fruits and vegetables enjoy a host of health benefits, from smoother skin and shinier hair to lower rates of depression. Take advantage of the perks that come from growing real food with the following ways to save while you garden:
#1: Start with Scraps
You're already buying food at the grocery store. Put it to work in your yard or container garden. You don't need a lot of space to grow your own food. Here are a few popular foods you can grow from scraps at home:
Garlic
Lettuce
Cabbage
Bok Choy
Celery
Fennel
Lemongrass
Green onions
Potatoes
Leeks
Mushrooms
Ginger
Many herbs can be grown from cuttings as well, including:
Sage
Mint
Rosemary
Oregano
Basil
Thyme
When possible, start with organic produce to prevent growth suppressants, pesticides or store-introduced contaminants from interfering with your results.
#2: Or Start with Seeds to Save Money on Gardening
If propagation isn't your thing, starting plants from seeds will save you a tremendous amount over buying plants. You can start them growing easily in homemade containers made from biodegradable material, like non-Styrofoam egg cartons or even newspaper. After 4 – 8 weeks, depending on the plant you're growing, you can transplant them directly into the soil – container and all!
Grocery store chains like Walmart and Aldi's have seeds at good prices. You can find the best deals by checking post-Mother's Day sale prices.
#3: Get Free Compost and Mulch
Compost is a mixture of organic material gardeners add to the soil to improve nutrients and help in water retention. Mulch is a ground covering placed around your plants that helps control moisture and weeds, protects your plants, and contributes to the aesthetic of your yard. Both products can make the most of every minute you spend gardening.
It's relatively easy to make your own compost by adding grass clippings, certain kitchen waste and other components to a compost bin. However, residents of DeKalb County don't need to make their own compost, as it's available for free through the Seminole Road Landfill or the North or East Transfer Stations. You can also have mulch and compost delivered to your home for $7.50 per cubic yard, with a minimum order of 10 cubic yards. Find out more here.
#4: Stick to Budget-Friendly Plants
Some plants are fun to grow but require a big investment of time and money. Others are cheap enough in the store to make growing them a missed opportunity. The space you use for potatoes, for instance, might be better used for berries.
A few budget-friendly veggies include:
Lettuce and other greens
Tomatoes
Peas
Green beans
Peppers
Cucumbers
Blackberries
Blueberries
Squash
You know which foods your family is most likely to eat, however. If there are enough carrot fans in your house, it might be worth it to sacrifice the growing space to handle those foods yourself. Tempted to grow pumpkins? It's a great idea if you have space, but you might try trading with a friend or neighbor for them first.
Want to grow flowers in your garden instead? Zinnias and marigolds are both colorful options you can collect seeds from in fall to replant (for free) the next year.
It can take time and practice to learn how to make a budget based on how to save money gardening. If you need a bit of wiggle room, a title pawn can help. Call or visit your nearest Title Tree store to find out whether you qualify.