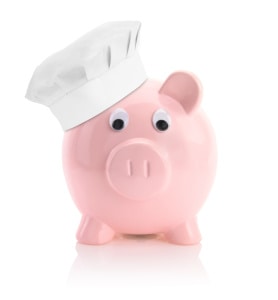 Save money on groceries without sacrificing your sanity or your health. It's possible whether you own essential food prep equipment or not. Anyone in America can save money each week by investing a bit of a time in basic research and planning.
Follow these five tips to ensure you and your family are healthy and full with money to spare:
If you have a smartphone, download a shopping app. Mobile applications exist for every situation these days, and budget grocery shopping is no exception. Scan local sales in seconds or shop the lowest prices available based on your shopping list. Some, like Checkout 51 and Ibotta, offer cash back on coupon purchases. Others, like Farmstand, help you tap into the healthy savings present at farmer's markets. Don't have a smartphone? Look over popular sites like Find&Save or Checkout 51 online for similar savings.
Consider once-a-month cooking if you have a big freezer. By dedicating a few hours out of one day, you can make cheap, healthy meals to last for weeks. This method not only takes advantage of bulk-buying discounts but also saves you prep and cooking time every day. Make things ultra-convenient by freezing meals in both individual and group portions. Don't even have a fridge? You don't have to miss out on milk. Instead, buy powered milk you can mix with water or add to recipes.
Plan your meals around proteins. Instead of clipping coupons each week, quickly scan grocery store specials for sales on meat and poultry. These are typically the most expensive part of any meal. Buying them separately instead of as part of processed, pre-packaged food items forces you to plan healthier meals. Don't eat meat? Look outside traditional sources of protein. Quinoa is both cheap and protein packed, as is Greek yogurt. Beans and peanut butter are also common choices.
If your car is on the fritz, healthy eating can be a real struggle. This is true even in areas with good public transportation. Sometimes it's easier to opt for expensive cans of premade chili than separate bags of beans, meat and tomatoes, and ordering pizza becomes de rigueur once it starts to snow. It doesn't take long to destroy your budget.This is one of the few situations where ordering groceries can be more affordable than doing your shopping in person. For just $10 or $15, your order can be taken and paid for over the phone or online, and then dropped off at your home at a predetermined time, giving you the ability to take advantage of weekly specials. Even when a delivery tip is included, ordering can save a lot.
Don't have a delivery service? Consider ordering groceries over websites like ShopFoodEx and Amazon.
Reconsider buying bread. The cost of quality bread continues to rise, leaving only the worst quality products on the shelves affordable. Avoid making these a staple of your diet, and look to bread alternatives. Large lettuce leaves, for instance, can be used for tuna fish wraps, and banana slices can be topped in peanut butter. Can't go without bread? Consider making your own. Not only is homemade bread much less expensive, it's generally healthier, tastier and not nearly as difficult to make as people think.
Even if you're working to save money on groceries, you may need a title pawn to help you in the meantime. Come on in to Title Tree, and we can help you get the cash you need. We're happy to help. Call, click, or come in to the Title Tree nearest you, and you'll see why we're known for our excellent customer service – and the best rates in town.