Have you tried your hardest to save money on your food bill only to give up in frustration?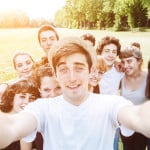 It's not easy to save money on food when there are kids in the house. Any adjustment can feel like you're short-changing them. Then you start having nightmares of skinny kids and angry cashiers, and your savings plans go right out the window. But what if you found an easy way to save on groceries, one that didn't require skimping? Would you feel safe taking the first step?
Keep reading to discover the secret of balancing your food budget while keeping everyone fed:
Save money on your food bill by going window shopping. 
Knowing how to save begins with knowing how much you spend. Make up a sample shopping list or two, go to your favorite stores and compare prices. Then, go home and compare those same prices with those you can find through online grocery stores, like Amazon Pantry.
No matter how weird, plan to buy what they actually eat.
Track everything your kids eat, no matter how wild. A full jar of jalapeños? A full jar of pimentos? Teenagers have stranger tastes than pregnant women, but it all adds up. Try to keep dibs on where they are getting what foods throughout a full week. Then write it down. How many fast food meals are they eating? How often do they order in or stop with friends for a pop or coffee? What are they—and their friends–eating around the house? Once you know what's really tempting their taste buds, it will be much easier to present new, more affordable options.
Replace one meal a week and save on your food bill.
In today's world, 80 percent of the foods we eat—if not more—boil down to convenience. Fast food breakfast burritos are the pinnacle of flavorless, fast foods we choose to eat. They're also just one possible meal you can easily replace by making them in advance. Have them ready to go in the fridge before school, and ask the kids to mic one or two and eat before they leave the house. You can also look into other quick and tasty breakfast options they'll enjoy more and get more from—all at a savings. Sticking to one replacement a week helps everyone get used to a change in routine.
Use modern tech to help you save on groceries.
We all have favorites we know are unhealthy, expensive and somewhat embarrassing. Moon Pies wouldn't still be in business otherwise, but we have our favorites. There's no reason to cut them all out of your budget. In fact, there may be ways to save regardless. Smartphone apps like Ibotta and Check51 offer rebates on many popular products. Others, like GroceryKing or Out of Milk to comparison shop on local prices.
Encourage your kids to drink more water.
We've all heard the mantra of drinking eight 6-oz. glasses of water per day, but the truth is, you need more to drink depending on several factors. It's no surprise that teenagers, especially teen boys, have a much greater need for hydration. Start serving a glass of ice water alongside a glass of pop, juice or milk with meals. Ask the kids to finish both before getting a refill. You'll find this leaves them feeling fuller, so they won't snack as often. If they're not used to drinking water, you can help them adjust to the taste by adding plenty of ice and berries or fruit slices or by adding carbonation with yeast or CO2 machine.
We hope these tips on how to save money on food with teens in the house will help you stretch your budget. It can take time and practice to learn how. However, if you run into the need for funds in the meantime, Title Tree is always here to help.
Click this link, call or visit your nearest Title Tree store to find out whether you qualify, or to learn more ways for how to save money on your food bill.