Have you started to save money shopping at Target yet? Keep reading!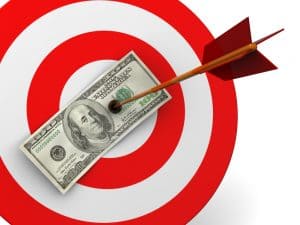 Looking for ways to save money shopping at Target? There's a reason the big box store is one of the preferred places to shop for those on a budget. The stores carry high-quality merchandise at reasonable prices. They also provide customers with many different ways to save. While some methods are effortless, others require a bit of planning to score the best deals.
Save the most at Target with these three simple strategies:
#1: Time Your Purchases Carefully
Target releases new weekly ads every Sunday, and add new clearance items in each department one day a week. Which day depends on your store. You don't have to stalk your store every day to figure the schedule out. Just ask the people who work there. Being nice to the people who stock the shelves is an excellent way to get the inside scoop.
Seasonal specials range from 50 percent off the day after a holiday to 90 percent off a week later. Then, of course, are Target clearance waves. The first round of pricing on clearance Items ends in "8," the second round in "6," and the third and final round in "4."
It's a bit of a crapshoot. On one hand, if you wait until prices are their absolute lowest, you could miss out. On the other hand, low prices might also be the sign of a problem. Before buying something at bottom dollar, you might want to check out reviews.
That leads us to our next tip…
#2: Avoid Buying on Impulse
Part of getting the most bang for your buck is only buying items you'll put to use. We know swapping out your smoke alarms for smoke-and-carbon-dioxide alarms would be a benefit to your family, but does the benefit justify the cost? Is there a more affordable way to check for carbon monoxide leaks? If you're not sure, that's a good sign to slow down on the spending.
Find more tips on making smart purchases during special promotions at MoneyCrashers.
#3: Stack Coupons, Discount Codes, and Gift Card Specials
Target has a few unique discounts, and thankfully customers can combine them with other deals. Please note, coupons and deals stack in a specific way that impacts an item's final price. For instance, Target usually reduces the full price by a coupon before applying a percentage off deal.
Target Cartwheel: Unlike the Target app, Cartwheel is available via smartphone or computer. It presents you with select offers by buyer profile, department, collection or item search. When using the app in-store, you can also scan the barcodes of the products you're buying.
Add the offers you like to your Cartwheel account, and print them off or present them to the cashier for scanning over your phone.
Target App: The Target store app lists all of their current deals, offers, clearance, and in-store coupons. This is where you find out about promotions like saving $20 off furniture purchases of $100 or more or 50 percent off all NERF purchases. You can also search particular stores for what's in stock.
Target REDCard: Applying for a Target REDCard doesn't require good credit. There is a credit card available, but there is also a debit card option. Using your REDCard saves 5 percent off your purchases, and you can combine the discount with other deals.
Target Gift Card Deals: Target drives the sale of specific items with gift card giveaways. Examples at the time of writing include receiving a $250 gift card with the purchase of an iPhone XS 64GB Rose Gold, a $5 gift card with the purchase of two laundry products, or a $40 gift card with the purchase of $250 in nursery furniture, among others.  
You can link your Target REDCard, Cartwheel and Target.com accounts for maximum benefits and ease of use. You can also combine these deals with manufacturer coupons and rebate site rewards.
If you're working on learning how to save money shopping at Target, an auto pawn could help. Call your nearest Title Tree location for help now.