Learn how to save money to be a stay at home mom.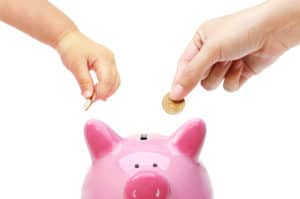 Is it possible to learn how to save money to be a stay at home mom? It depends on the resources you have at hand. Every single mom needs an income, and many families need two paychecks to pay the bills. Yet some families can cut back enough for mom or dad to stay home.
The Savings of Staying Home
If you haven't already, tally what you spend on clothing, food, gas and other expenses related to your job. These are things you would stop spending money on if you stayed home. You won't want to write off all your gas money, for instance, if you intend to continue driving. Adjust it to reflect the difference.
In some cases — heating and cooling, for one — your expenses will increase. You should note that as well. Plan for the lifestyle you want your children to have, not the one that will be least expensive.
One of the biggest savings, of course, is avoiding the cost of daycare. The high cost of childcare motivates many parents to give up their jobs. Include all relevant expenses. Don't stop at weekly fees. Remember the cost of supplies, gifts and money you spend on fundraisers.
Shrink Your Biggest Bills First
Shrink your bills through negotiation. School loans, car loans, home loans, service contracts…they're all up for discussion. New programs have made it easier than ever to cut your costs. Once you've left your job, you might be able to renegotiate again to reflect your lower income.
Have Your Groceries Delivered
Sometimes it takes money to save money, and that's never truer than when you're grocery shopping with kids in tow. According to Lifehacker, impulse buys make up 50.8 and 67.7 percent of grocery purchases. By ordering your groceries online, you avoid those unplanned expenses. Plus, you save yourself an incredible amount of time and stress!
Grow Your Own Favorites
Gardening benefits your budget, but it does more than that. Children thrive in natural environments. They learn a bevy of skills from putting their hands in the dirt. It is easy and affordable to grow your own ingredients. You can have a full garden or an herb container by the sink.
Establish a Budget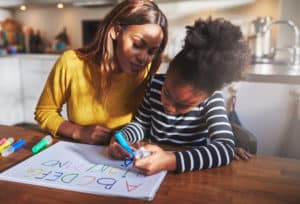 Working moms often buy the very best for their children, from the foods they eat to the clothes they wear. Unfortunately, those standards are likely to change if you cut your family's income. During the planning stages, look at the alternatives.
Staying home is very different than being a working parent. It's not just more enjoyable. For many parents, it's also more tiring and stressful. Adding soured expectations to the mix is a recipe for failure. Make sure you have realistic expectations going into it.
Sit down with your spouse and look at your expenses. Consider how much you'll be able to spend in each area going forward. Make room for fun in your budget as well. You will wind up pleasantly surprised by the changes over time, instead of frustrated by them.
Start a Savings Account
Saving money each month is key to staying financially fit. Working parents often do this in the months before the transition. Experts recommend having at least three months' worth of living expenses in savings. Nine months is better, but the wait required to build it up might be unrealistic. Your children are only young once.
If you're working on learning how to save money to be a stay at home mom, an auto pawn could help. Call your nearest Title Tree location for help now.