Figuring out how saving money at Costco works can be a very simple process.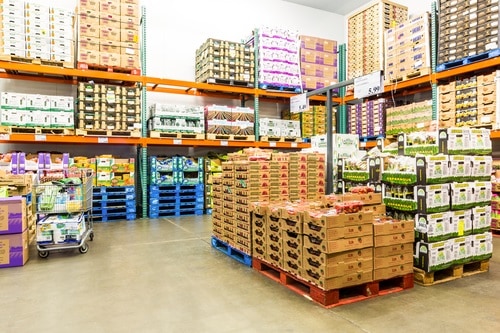 If you love shopping at warehouse stores, then you probably want to find out how easy it is saving money at Costco. Prices on a per unit basis are already cheap because you can buy in bulk. But you can multiply your cost savings if you use some of the following tricks.
Trick #1: Choose the Right Costco Membership
Like other warehouse clubs, Costco requires shoppers to pay for their memberships, but there are two levels of membership. The first level is the Gold Star Membership and costs $60 per year. The second level is the Gold Star Executive Membership. This costs $120 per year. So why would anyone ever pay twice the price for a membership? Well, the Gold Star Executive Membership allows members to earn two percent cash back on all of their Costco purchases. For anyone who spends more than $3,000 each year, it makes financial sense to purchase the more expensive Gold Star Executive Membership. This can also result in free membership for those who buy a lot of stuff from Costco.
Trick #2: Use Costco Coupons
Manufacturer coupons are wonderful – almost every single store in the country will accept them, including most warehouse clubs. But unfortunately, Costco is an exception to this rule. However, they do issue their own coupons which provide significant savings, often even more than what the manufacturers' coupon would provide. Just be sure to check your mailbox before leaving for Costco because that's how Costco will get them to its members.
Trick #3: Get Costco Gas
Costco members can fill up their vehicles at the Costco gas station. Not all Costco stores have gas stations, but if they do, the fuel is often cheaper than nearby gas stations. Even if it's the same price, at the very least, it will save time and gas driving to another gas station before or after your Costco shopping trip.
Trick # 4: Use a Visa Cash Back Credit Card
Like with coupons, Costco is pretty picky about credit cards. They only accept Visa, so it pays to have a cash-back Visa credit card to use at Costco. Speaking of credit cards, Costco offers its own Visa cash back credit card that provides 2% cash back on all Costco purchases. You can get up to 4% cash back if you use the Costco Visa credit card and are already a Gold Star Executive member.
Hack #5: Buy a Few Grocery Items at Costco
Believe it or not, certain grocery staples, such as milk and eggs, are about the same price or even cheaper at Costco than the typical grocery store. As long as you can make it home quickly after shopping at Costco to get the perishable items in the refrigerator, consider doing some grocery shopping at Costco. At a minimum, it will save time on your next grocery trip.
Hack #6: Buy Generic
Costco's generic brand is Kirkland. The Kirkland brand is on many items, including batteries, clothing, food, and medicine. But don't think you're giving up a lot to save money on generic. Many customers have found that the Kirkland brand is as good, if not better than name brand products.
Hack #7: Use the Costco App
For those who would rather avoid the store, they can go shopping through the Costco app. Besides convenience, this app lets members know about current deals available only on the app or Costco's website.
Hack #8: Get New Tires
If you need new tires for your car, consider getting them at Costco. In many instances, name brand tires will be cheaper than at your dealership. The cost savings can sometimes be enough to pay for your annual Costco membership. Another advantage of going to Costco is that you can get free tire rotations and tire balancing.
Saving money at Costco can take time and practice, but it's worth the effort. If you need a bit of wiggle room, a title pawn can help. Call or visit your nearest Title Tree store to find out if you qualify.