Many grocery shoppers will appreciate saving money at Kroger.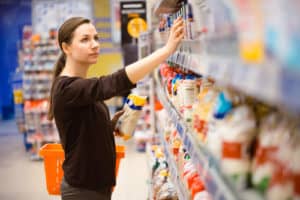 Food shoppers will appreciate learning new ways of saving money at Kroger, especially given how many of the stores exist in the United States. Most of these are pretty simple and don't require the grocery shopper to sacrifice anything. So without further delay, let's start revealing some of the best tips available.
Tip #1: Join the Loyalty Program
Like most grocery stores, Kroger offers a loyalty card (called the Plus Card) to its customers. With this card, you can take advantage of weekly specials and pay a lot less than someone not using the card. You don't need a smartphone or special online account to get the discounts or sign up. All you need to do is fill out a card with your basic information and the instant savings are now yours.
Another major advantage of using the loyalty card is getting discounts on gas. Under the current gas rewards program, you get 10 cents off per gallon at Kroger gas stations (and participating Shell gas stations) for every 100 points. How many points you get per dollar depends on what you purchase. For most grocery items, you get one point for each dollar you spend. However, for most gift cards, you get two points for each dollar you spend.
Tip #2: Use Smartphone Apps
There are many apps available for iOS or Android users that can lead to savings or cash back on grocery items you'd purchase anyway. For example, the iBotta app will pay users cash for making certain purchases. All they have to do is find offers before shopping, purchase those items, then provide proof they made the purchase. Users can do this by either by taking a photo of the receipt or linking their store's loyalty card to the iBotta app before shopping. Other similar apps include Snap, MobiSave and Checkout 51.
Tip #3: Use the Kroger Credit Card
The Kroger Rewards World Mastercard is a credit card that allows Kroger shoppers to enjoy a variety of benefits. If you use the credit card in a Kroger store, you will earn two points for every dollar you spend. If you use the Kroger Card for a Kroger-branded product, you'll make three points for every dollar you spend. And if you use the credit card at any other store, you'll earn one point for every dollar you spend. You can then redeem these points for free groceries.
Another discount with the Kroger credit card is that for the first year, Kroger credit card holders will earn an extra 25 cents off per gallon at Kroger gas stations every time they redeem 100 points in gas rewards. This means that if you shop at Kroger often, you can expect 35 cents off per gallon at most gas fill-ups.
Tip #4: Sign Up for a Kroger Account
By creating a Kroger account online, you can browse from electronic coupons, keep track of your gas points and learn about special offers.
Tip #5: Look for 4 for $4 Deals
Kroger has a special sale where shoppers can mix and match four designated items for only $4. These are usually active for only a limited time, so shoppers need to always be on the lookout.
Tip #6: Look for the Clearance Shelf
Most grocery stores have shelves in the back of the store where shoppers can find items at extreme discounts. Kroger is no different. However, sometimes these clearance shelves will go by the name of "Manager's Special."
Tip #7: Coupons
Kroger accepts both in-store and manufacturer coupons and allows for coupon stacking, for extra discounts.
Tip #8: Free Friday
Every Friday, Kroger offers a special item for free. All shoppers need to do is download the coupon and redeem it before the deadline expires, which is roughly two weeks later.
If you're working on learning how to save money at Kroger, an auto pawn could help. Call your nearest Title Tree location for help now.