Bull's eye shoppers will love learning tricks on saving money at Target.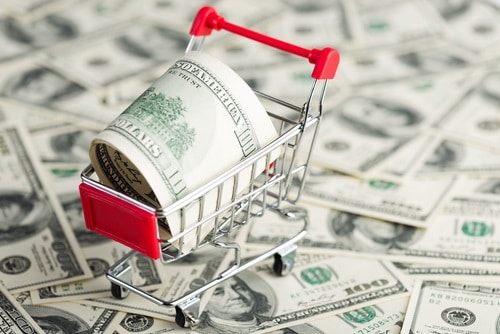 Of all the big box stores in America, shoppers commonly wonder about saving money at Target. And what's more fun than shopping at Target? Saving money while shopping at Target! Here are seven great tips on how to do just that.
Tip #1: Get a Target Credit or Debit Card
Paying with cash is rare these days. The convenience and security of plastic are hard to top. Did you ever wish there was a way to save money at Target when using a credit card or debit card? There are several options. One of the most common is to use a credit card with rewards, such as cash back. But most of these credit cards only give one, two or three percent cash back. Target has something even better.
Target offers either a debit or credit card, called the REDcard. The REDCard provide a variety of benefits for Target shoppers. One such benefit is free shipping (two-day shipping is also available for certain online purchases). You're also allowed more time to make returns. If you're the victim of a defective or unsatisfactory item, this can allow you to get your money back when you normally wouldn't.
Finally, the biggest way to save money at Target by using the REDcard is to take advantage of its five percent discount. This discount applies to all purchases and for any amount at either the Target.com website or in-store.
Tip #2: Create a Wedding Registry
Creating a wedding registry at Target isn't just a good idea because Target has neat stuff. It can also result in 15 percent savings. Here's how it works. You create the registry, including when the wedding date is. After your wedding, if there are any items on the list that no one purchased, you can purchase the items yourself for 15 percent off.
Tip #3: Check Target's Weekly Ad
Like most grocery stores, Target releases a weekly circular. As you might expect, it contains great specials and timely deals. It also includes coupons that you can clip out or load onto your smartphone through the Target app.
Tip #4: Look for Free Target Gift Cards
One of Target's most popular discounts is to provide a gift card with certain purchases. At any given time, there are several promotions where shoppers will receive at least a $5 gift card for buying something they might purchase anyway, such as diapers, the newest smartphone or a coffee maker.
Tip #5: Look for the Clearance Shelves
Like its competitor, Wal-Mart, Target also has special shelves with clearance items. These are typically new items, not returned or opened box merchandise. Shoppers can expect to find brand new items for significant discounts.
Tip #6: Use Reusable Bags
When you go shopping at a brick-and-mortar store, you typically take your purchase home in a plastic or paper bag. You don't pay for these bags, at least not directly. However, they cost the retailer money and when not recycled, contribute trash to landfills. Target recognizes the problem these bags often pose and provides a small inventive to customers who don't use plastic. If a customer brings his or her own reusable bag to take merchandise home in, they will save five cents on the purchase.
Tip #7: Make Use of Target's Price Match Guarantee
Target has low prices, but it won't have the lowest price for every single item all the time. Extra savvy shoppers can use Target's price match policy. The Target store will match the price of a local competitor within 14 days of the Target purchase. This price match guarantee applies even to Target's own prices and certain online competitors, too. And yes, the list of online competitors includes walmart.com and Amazon.com.
If you're working on learning how to save money at Target, an auto pawn could help. Call your nearest Title Tree location for help now.